Today my husband took the reins in the kitchen and cooked up a bacon jam just like the one we had at a dinner in San Luis Obispo at Creekside Brewery. The flavor was sweet and savory and so amazing on our burgers. At his request I queried my followers on Facebook and found one that peeked my husbands interest. Before I could get to it in the kitchen he was ready to power it out himself. He made a few adaptations since he likes his "jam" less sweet and wanted to add his homemade brew, Octoberfest, instead of the Bourbon.
I want to make sure that those that are reading the recipe know this is for refrigerator only! This can not be canned for shelf stability. Enjoy!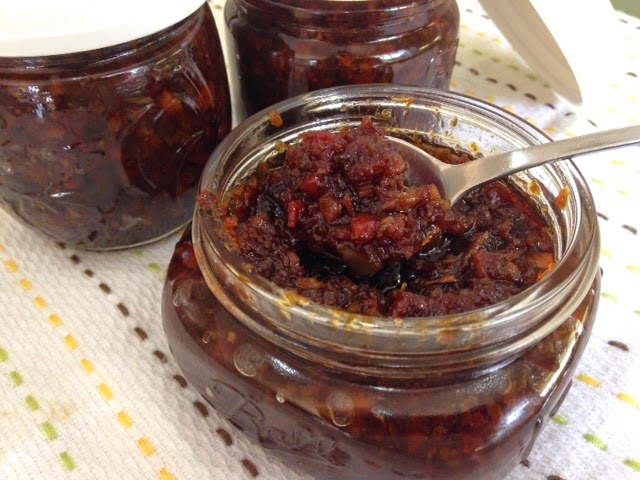 Bacon Beer Jam
The recipe is done and really an amazing flavor and texture.
Ingredients
1 1/2

pounds

bacon

2

cups

shallots, finely chopped

1

cup

vidalia onion, or any sweet onion, finely chopped

4

cloves

garlic, finely chopped

1

teaspoon

chili powder

1/2

teaspoon

smoked paprika

3/4

cups

beer

1/2

cup

maple syrup

1/4

cup

balsamic vinegar

1/4

cup

brown sugar
Instructions
Cook the bacon in frying pans in batches. You want to allow it to be crispy.  Cook over medium heat until it browns. You want the bacon to be cooked enough that you see very little visible fat. Drain on a paper towels.

Pulse your shallots and onions in the food processor or chop them by hand.

Drain your bacon grease from the frying pan but leave about 1 to 2 tablespoons of the fat. Add shallot and onion to the pan, cook over medium heat until they start to caramelize. Add the garlic and cook for about one more minute.

Add the chili powder and smoked paprika, stir to combine. Increase heat to high and add the beer and maple syrup. Bring to a boil, stirring and scraping the pan to catch the bacon scraps at the bottom of the pan. Low boil for 2 minutes.

Add the balsamic vinegar and brown sugar, continue to boil for about 3 minutes more.

Using a sharp knife or food processor cut the bacon into small pieces. You can also tear it by hand so it looks more rustic, not too perfect.

Note: because our bacon was very meaty we used the food processor since we didn't want the bacon to chewy with bigger pieces.

Toss the bacon into the pan, reduce heat to low and simmer for about 10 minutes, the mixture will thicken.

Remove from heat. If you have a lot of fat you can drain off the excess by pouring it through a sieve or use cheesecloth to drain it through. 

You can pop the mixture into a food processor and pulse until it breaks down more. Or you can leave it chunkier and don't bother pulsing it. Transfer to jars and store in the fridge.