Some classic recipes can be used in putting together some quick meals in jars. This recipe was shared with me by Richard who is an avid follower and has been putting up food for eating more healthy in his life.
Remember you can't add milk, cream or thickeners to your jars to keep them shelf stable. Richard's recipe at the end will tell you how to add the finishing touches to create that creaminess for a perfect Marsala so it's ready to serve.
Thanks Richard for your time and photo and letting me share this with the canning community.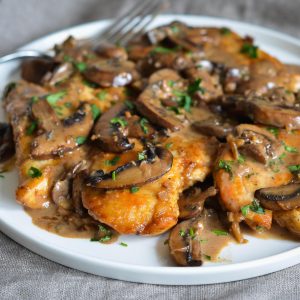 CHICKEN MARSALA
Chicken Marsala is a delicious way to prepare chicken and perfect because of its "base" of using chicken stock and adding thickener, cream or sour cream just before serving after reheating the jars contents.
Ingredients
5-7

lbs.

boneless/skinless chicken

5

cups

sliced mushrooms (2 - 20 oz. pkgs.) 

2

cups

dry Marsala wine

2

quarts

chicken stock

1

pc.

medium onion diced 

1

tsp.

oregano

1

tsp.

chopped garlic 

Salt and Pepper
Instructions
Preparation:
Prepare chicken by cutting away any visible fat removed and cut into bite sized pieces. Slice mushrooms, dice the onion and mince the garlic, set aside.
Cooking:
In a frying pan using a small amount of olive oil sauté chicken pieces seasoning with salt and pepper, in several batches and place in a colander placed over a bowl for excess grease to drain.

Place 1 cup of chicken into each pint jar along with ½ cup sliced raw mushrooms. Using the same pan that you cooked the chicken add the diced onion, garlic and oregano.

Saute until the onion is soft but not brown. Add 2 cups dry Marsala wine and boil hard for 1 minute (to evaporate the alcohol) stirring all the bits together and add 2 quarts chicken stock.

Bring to a boil and let simmer a few minutes to let the flavors combine.
Filling the jars:
On a dishtowel place your hot jars. Using your funnel in each jar fill with  the stock mixture filling to 1" headspace.  Remove air bubbles and refill to the proper headspace if necessary.

Taking a clean paper towel wet it with vinegar and wipe the rims of the jars removing any food particles that would interfere with a good seal.

Using your magic wand extract the lids from the hot water and place them on the now cleaned rims. Add your rings to the tops of each of the jars and turn to seal just "finger tight". 
Processing:
Make sure your rack is on the bottom of the pressure canner and place the jars in bottom. Lock the lid and turn up the heat bring the canner to a boil.

Vent steam for 10 minutes, then close the vent by adding the weighted gauge or pressure regulator (for dial gauge canner). Process for 90 minutes at 10 lbs of pressure (11 lbs for dial gauge canner). If you choose to do pints they should be processed for 75 minutes. (Adjust pressure for altitude) When complete turn off the heat and let pressure return to zero naturally.

Wait two minutes longer and open vent. Remove canner lid. Wait 10 minutes then remove jars and place on dishtowel in a place that they will sit overnight to cool. Do not touch or move them till the next morning. Your food may still be boiling inside the jars. That is normal! 
Serving:
When ready to serve, drain liquid into a saucepan and thicken with cornstarch or flour butter mix, add 2 tablespoons of cream or sour cream (I like it plain-as is) and add contents of jar until heated through.Ladle over Angel hair pasta or rice.
Notes
Yields 5 Quarts or 10 pints