If you haven't tried to make jam with Clear Jel you don't know what you're missing. Chris, a follower on my Facebook page, took a classic flavor of apple pie and created a jam that looks amazing.
The sweetness of the apples, with essence of cinnamon and vanilla make a jam that not only taste great on your morning toast but can be used for apple tartlets, perfect for filling of homemade poptarts and handpies, and is a great topping for waffles and pancakes.  The apples are diced and work better in these more delicate pastry recipes.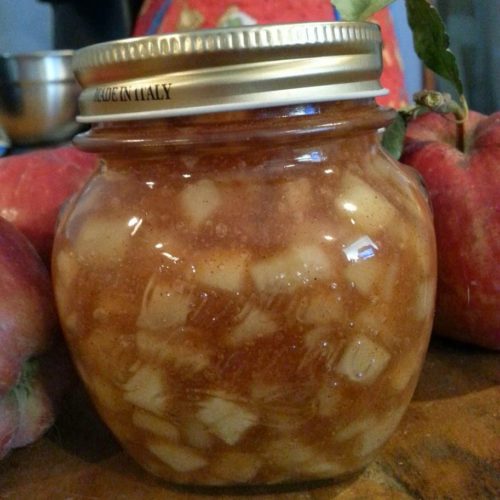 Apple Pie Jam made with Clear Jel
Apple Pie Jam made with Clear Jel
Ingredients
(note: this is a small batch and yielded 3 -4 half pints depending on your sugar)

4

cups

diced apples

2/3

cup

sugar

1/4

cup

Clear Jel

1/4

cup

sugar + 1 cup

3/4

t.

ground cinnamon

1

t.

vanilla extract

2

T.

bottled lemon juice
Instructions
Preparation:
Prepare 3-4 half pints , lids, and rings. Sterilize the jars and keep them in the hot water till it's time for processing. Make sure to fill your water bath canner and get the water to a simmer. 
Cooking:
In a stainless steel saucepan, combine diced apples and 1/3 cup sugar . 

Bring to a boil over medium-high heat, stirring constantly. Reduce heat and simmer for 5 minutes longer. Add the cinnamon and vanilla. 

Add additional 1/3 cup of sugar and stir in for 5 minutes. With a spoon taste the mixture to see if it's sweet enough. Remember it will be hot so let it cool on the spoon for a minute.  If you add more sugar only add in 1/4 cup increments. Note: you are going to add 1/4 cup more sugar with the Clear Jel. 

In a separate bowl add 1/4 cup of Clear Jel and 1/4 cup of sugar. Mix together the powders with a wire whisk. 

Using your ladle scoop out about 1/4 cup of the hot liquid from the pot. You can instead use an additional 1/4 cup of water or other liquid if you want to add additional flavor. Some suggestions would be apple juice, grape juice, or orange juice. 

Use the whisk to completely stir the mixture until it looks smooth like milk.  

Add 2T. of bottled lemon juice to the fruit in the pot and while stirring increase the heat under the pot to medium.

Pour your Clear Jel mixture into the pot and stir for about a minute until the jam is thick. This will be like adding a thickener to make gravy. Turn off heat and remove pan from stove.  
Filling the jars:
On a dishtowel place hot jars and ladle jam into hot jars to 1/4" headspace in the jar.  Remove air bubbles and adjust head-space , if necessary, by adding more jam.

Wipe rim with clean cloth or paper-towel, center lid on jar, screw band down till resistance is met, then increase to fingertip-tight.
Processing:
Make sure your rack is on the bottom of the canner and place the jars in the water bath making sure that the water covers each of the jars by 1 to 2 inches. Add hot water to the canner if it doesn't measure up.

Cover the pot and turn up the heat under the canner and wait for the water to start boiling. Once the water has come to a boil start your timer for 10 minutes.

When complete turn off the heat and remove the cover and let the jars sit for another few minutes.

Remove the jars and place them back on the dishtowel in a place that they will sit overnight to cool. Do not touch or move them till the next morning.
Sealing:
Sometime in the next hour your jars will be making a "pinging" or "popping" noise. That is the glass cooling and the reaction of the lids being sucked into the jar for proper sealing. Some recipes may take overnight to seal. Check your lids and reprocess any jars that did not seal after waiting several hours.
Labeling:
Make sure to label your jars after they have cooled with the name of the recipe and the date canned.