I live in a town that doesn't have an Olive Garden but some followers talk about this soup fondly. Erika, one of my Facebook followers shared this as a base for a copycat of the Zuppa Toscana Soup.
From Erika: Here is how I made my version of Olive Garden Zuppa Toscana Soup. It's really the base since the cream and Parmesan would have to be added right before you eat it.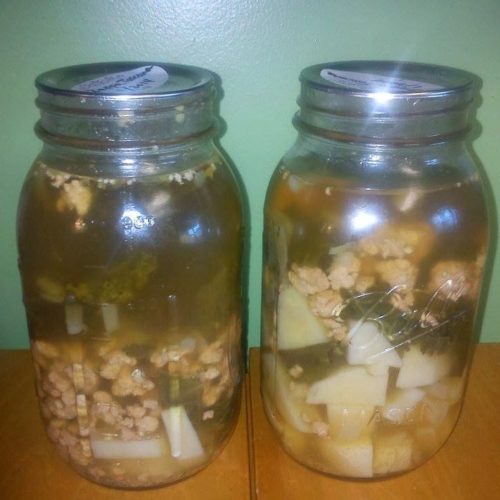 Zuppa Toscana Soup
The soup has ground pork, potatoes, and kale which comes together with spices and herbs to be a hearty meal when served.
Ingredients
3

lbs

ground Pork 

1

t.

each salt and pepper, oregano 

1/4

t.

red pepper flakes (if you like it spicier use more)

2

pc.

small onions 

4

cloves

garlic

4

pc.

large potatoes 

1

bunch

kale

3

quarts

pork stock (turkey or chicken stock will work as well)
Instructions
Preparation:
Prepare 4 quarts or 8 pint jars by sanitizing and keeping them hot for packing. Dice the onion and mince the garlic, set aside. Peel and cube the potatoes putting them in lemon water (1/2 cup water to 4 cups water) to keep them from browning.

Wash and blanch kale in boiling water for 30 second just to wilt, set aside. You can also grind the pork using a pork butt or buy pre-ground pork. 
Cooking:
In a frying pan sauté ground pork till cooked and add the salt, pepper, oregano, and red pepper flakes. In a separate pot heat the 3 quarts of stock till simmering. 
Filling the jars:
On a dishtowel place your hot jars. Using your funnel in each jar fill with equal portions of the onion and garlic mixture. Then add a small portion of the kale to each jar, followed by the potatoes.

Lastly divide equally the seasoned pork filling to no more than ¾ full in the jar. Ladle in the stock filling the jars to 1" headspace. Remove air bubbles and refill to the proper headspace if necessary.

Taking a clean paper towel wet it with vinegar and wipe the rims of the jars removing any food particles that would interfere with a good seal.

Using your magic wand extract the lids from the hot water and place them on the now cleaned rims. Add your rings to the tops of each of the jars and turn to seal just "finger tight". 
Processing:
Make sure your rack is on the bottom of the pressure canner and place the jars in bottom. Lock the lid and turn up the heat bring the canner to a boil.

Vent steam for 10 minutes, then close the vent by adding the weighted gauge or pressure regulator (for dial gauge canner). Process for 90 minutes at 10 lbs of pressure (11 lbs for dial gauge canner). If you choose to do pints they should be processed for 75 minutes.

(Adjust pressure for altitude) When complete turn off the heat and let pressure return to zero naturally. Wait two minutes longer and open vent. Remove canner lid.

Wait 10 minutes then remove jars and place on dishtowel in a place that they will sit overnight to cool. Do not touch or move them till the next morning. Your food may still be boiling inside the jars. That is normal! 
Sealing:
Sometime in the next hour your jars will be making a "pinging" or "popping" noise. That is the glass cooling and the reaction of the lids being sucked into the jar for proper sealing. Some jars may take overnight to seal. Check your lids the next day and reprocess any jars that did not seal. Remove rings for storage. 
Labeling:
Make sure to label your jars after they have cooled with the name of the recipe and the date canned. If you want to use the shrink labels in the picture you can order them Here!

From Erika: Once I open the soup I will reheat in pot and then add a splash of cream or milk. Top the bowl with grated parmesan cheese. I swear it taste just like the stuff from Olive Garden.