Some time ago Lila sent me a great combination of flavors for a canning of taco meat. I have been trying to get the time to make it myself but it's becoming evident that it's not soon! I want to share it since it's one of those recipes that is perfect for the off season to get canned up.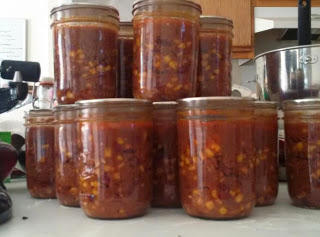 Taco Meat for the Pressure Canner
Taco Meat for the Pressure Canner
Ingredients
1

16oz

bag Black Beans

8

lb

Ground Beef

8

cups

Corn fresh or frozen

8

cups

Salsa (I really like using the zucchini salsa in this)

1

cup

Taco Seasoning without cornstarch or flour (my recipe is below)

8

cups

Liquid (I use 4 cup water and 4 cup beef broth)
Instructions
Preparation:
The night before, sort and soak your dried black beans in enough water to cover them. Leave in a cool place.

Day 2 - Prepare pint jars, lids and rings by sterilizing. (I had a total of 22 wide mouth pints using 10lbs meat)
Cooking:
The next day drain beans in a colander and put back into a pot adding 4 cups of water and cook for 30 minutes on a simmer. Do not boil, as it will cause the beans to split.

While beans are cooking, brown and drain the ground meat. I will also rinse the meat with hot water to remove more fat.

When beans and meat are done place all the ingredients in pot bring to a boil let cook 10 min more. This mixture will look soupy that is fine the rest will absorb in processing.
Filling the jars:
On a dishtowel place your hot jars and using your funnel in each jar fill the jars  to 1" headspace.   Remove air bubbles and refill to the proper headspace if necessary.

Taking a clean papertowel wet it with vinegar and wipe the rims of the jars removing any food particles that would interfere with a good seal.

Using your magic wand extract the lids from the hot water and place them on the now cleaned rims. Add your rings to the tops of each of the jars and turn to seal just "finger tight". 
Processing:
Make sure your rack is on the bottom of the canner and place the jars in the pressure canner.  Lock the lid and turn up the heat bring the canner to a boil.

Vent steam for 10 minutes, then close the vent by adding the weighted gauge or pressure regulator (for dial gauge canner).  Process for 90 minutes at 10 lbs of pressure (11 lbs for dial gauge canner). If you choose to do pints they should be processed for 75 minutes.

(Adjust pressure for altitude)  When complete turn off the heat and let pressure return to zero naturally. Wait two minutes longer and open vent. Remove canner lid.

Wait 10 minutes then remove jars and place on dishtowel in a place that they will sit overnight to cool. Do not touch or move them till the next morning. Your food may still be boiling inside the jars. That is normal!
Sealing:
Sometime in the next hour your jars will be making a "pinging" or "popping" noise. That is the glass cooling and the reaction of the lids being sucked into the jar for proper sealing. Some recipes may take overnight to seal. Check your lids and reprocess any jars that did not seal. Remove rings for storage. 
Labeling:
Make sure to label your jars after they have cooled with the name of the recipe and the date canned. If you want to use the shrink labels in the picture you can order them Here!

From Lila: You will find this recipe to be very versatile and you can add whatever level of salsa you like for a spicier flavor, more dry spices like cumin to add a smoky flavor, or additional vegetables such as green peppers to add more bulk.

Taco Seasoning:

You can use a pint jar to store this mix for the next time. Use teaspoons of each for a smaller batch. Using a tablespoon for each measurement will make enough to fill a quart jar.

Run all through a grinder or a blender to mix and chop up larger spices. Use ¼ cup per 2 pounds of meat. 

Parts: Paprika ...... 4 Ground Cumin ........... 3 Mexican Oregano ....... 3 Chili Powder........ 16 Onion Powder ............ 4 Sea Salt ............. 1  Sugar ..................... 4 Garlic powder ............. 2 Clear Gel ............... 8 Cocoa powder ........................... 4 Citric Acid ................... 2