Mincemeat isn't everyones favorite and the idea of a fruit/meat combination seems to turn people off rather than opening their mind to the possibility of how good this could be. I was intrigued since I had never had this before, not even in a jar from the grocery store, but then again I like fruitcake.. LOL…
I was at the grocery store yesterday and ask the butcher if they carried suet. I had asked before and the guy behind the counter had no clue and directed me to the freezer section. I took a chance that the butcher might be in the back and sure enough I got a pound and paid .43c!
Bagged with the few ingredients I needed I proceeded back to the kitchen to prep apples, meat, and get this recipe underway. The smell was like the apple stuffing my mom makes sometimes for Thanksgiving. As the recipe cooked down for the hour it was sweet and savory and the texture was much like the cooked ground beef.
When the processing was over and I removed the lid from the canner the color of the contents was a very dark brown color. I wasn't sure if that was what it was suppose to look like so I "googled" it and looked at other images. I was reassured!
I substituted out the raisins since I do not like them for cranberries and used spiced apple cider from Trader Joes. I really like the basic flavor of this filling and I think it will be really fun in pie crust or in a samosa dough.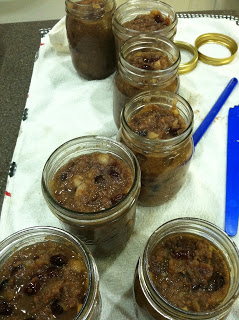 Festive Mincemeat Pie Filling
Here is the recipe adapted from National Center for Home Preserving  and will add a picture of my mincemeat hand pies in the next couple days.
Ingredients
2

cups

finely chopped suet

4

lbs

ground beef or (4 lbs ground venison and 1 lb sausage)

5

qts

chopped apples

2

lbs

dark seedless raisins ( I used cranberries)

1

lb

white raisins ( I used more cranberries)

2

qts

apple cider

2

tbsp

ground cinnamon

2

tsp

ground nutmeg

5

cups

sugar

2

tbsp

salt
Instructions
Cook suet and meat in water to avoid browning. Peel core and quarter apples. Put meat, suet and apples through food grinder using a medium blade or use a pulse on a food processor. Combine all ingredients in a large saucepan and simmer 1 hour or until slightly thickened. Stir often.

Fill jars with hot mixture leaving 1 inch headspace. Using a rubber or plastic spatula remove air bubbles and refill if necessary to 1 inch headspace. With a paper towel that has white vinegar clean the rim of the jars to get a good seal. Add your hot lids/rings and process in your pressure canner for 90 minutes at 10 lbs of pressure for weighted gauge and 11lbs for dial gauge.