Last week I asked for a Crock Pot version for some followers that want to make Apple Butter. I received quite a few and wanted to get this recipe up that has been provided by Kim. She also shared a picture of the final product so you could see the deep color and consistency of the smooth and glistening butter. I also loved the photograph that I received from Tammy still in the crock and have shared that one as well below.
Thank you Kim for sharing your recipe and picture for this canning site. Also thanks Tammy for allowing me to use your snapshot.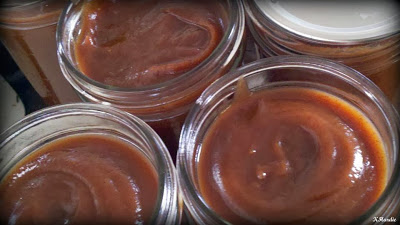 Crock Pot Apple Butter
Ingredients
25-30

pc.

apples (about 8 lbs) (I use a mixture of varieties in mine)*

1

cup

apple juice, cider, or water

4

cups

brown sugar

4

tablespoons

cinnamon
Instructions
Using your favorite method, wash & slice apples, remove the cores and add your sliced apples & peels (if desired) to the Crock Pot to the very top of the lid. (Peels aren't necessary but I always add mine.) 

Add 1 cup of water or apple cider or juice if you have any on hand. 

Turn the Crock Pot on low, covered, and let cook untouched for 10-12 hours. I usually start this in the afternoon or evening so the next step is ready in the morning when I wake up.

In the morning or after 10-12 hours, using an immersion blender, puree the apples until it is completely smooth if that is your preference. (its ours) 

Add 4 cups brown sugar & 4 tablespoons of cinnamon to the puree using the immersion blender to blend them in well. 

Replace the lid on the puree but turn it slightly skewed about 1 inch so that steam will be able escape. (Tip: add chopsticks across the top of the pot and set the lid on those to let the moisture escape.)

Continue to let it cook down on low for another 8-10 hours. You don't need to stir this but you certainly may occasionally if you wish. 
To fill the jars:
Using your canning funnel fill the jars using your ladle. Fill the jars to 1/4" head space.

Using a wet papertowel wipe the rims of the jars.

Add hot lids/ring and water bath 5 minutes for half-pints or pints, 10 minutes for quarts. Adjust per altitude. 

Kim also sent me a note: If you don't have brown sugar you can add 4 cups of white sugar and 5 T. of unsulfured molasses. *Use Jonathan, Winesap, Stayman, Golden Delicious, Maclntosh, or other tasty apple varieties for good results.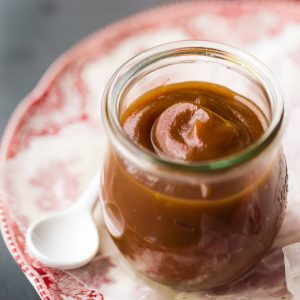 Crock Pot Apple Butter
Here is another variation using apple cider and vinegar from the National Center for Home Food Preservation. The processing times are the same as Kim's:
Ingredients
8

lbs

apples

2

cups

apple cider

2

cups

vinegar

2 1/2

cups

white sugar

2 1/2

cups

packed brown sugar

2

tbsp

ground cinnamon

1

tbsp

ground cloves