Stacy was looking at a Thai Sweet Chili Sauce that had all the right ingredients but not enough acidity and it used cornstarch to thicken it. I was looking for a new recipe for my dad since he complains that salsa just isn't hot enough when he is eating meats or chicken.
In my pantry I have some Padron peppers, spanish pimientos, that I was given last year from Fairview Gardens to dry. I had a small bag of them left and decided since they were on the fire end of spicy that I would give this recipe some adaptation and do a few jars for dad.
You can also make this recipe with your own fresh peppers which I will show in the recipe below. If you have dried or have the amazing array of peppers we do in southern california you can make this as mild or habanero hot as you would like.
I canned up 3 = 4 oz jars and left one 4 oz out of the canner to take to dad's today when I go for a visit. This recipe made either 2 half pints or 4 -4 oz jars. The remanence in the pot was spicy and sweet and the consistency was perfect. Just the sauce you would want to have to use in your wok with veggies and cut up chicken served over a bed of amazing steamed rice.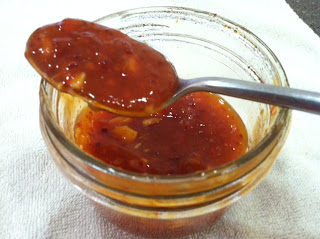 Sweet Dried Chili Sauce
Sweet Dried Chili Sauce
Ingredients
1

T.

garlic, minced

3

pc.

medium dried chilis or 3 fresh chilis (adapt for the type of heat you desire)

3/4

cup

water

1/2

cup

sugar

1/2

cup

vinegar (5% acidity - either white or cider will work) 

1/4

t.

kosher salt

2

T.

Clear jel (NOT Sure-Jel)

4

T.

water
Instructions
In the blender, small food processor, or magic bullet mix the peppers with the 3/4 cup of water till blended. You can leave the seed in if you want the spicier flavor. 

Add the chili mixture, garlic, sugar and vinegar to a saucepan. Heat to a simmer for 3 to 5 minutes. 

Combine Clear Jel and 4 tbsp water in a small bowl and mix well. Bring chili mixture to a boil and whisk in the Clear Jel continuing to stir for one minute. 

The sauce will thicken quite quickly. Remove from heat. 

Fill jars with mixture to 1/2" headspace. Remove air bubbles with rubber spatula and refill to proper headspace if needed.

Using a wet papertowel wipe the rims of the jars. Add hot lids and rings.

Place in water bath canner and process once the water comes back to a full boil for 15 minutes.

Remove from the canner and leave on the dishtowel overnight with disturbing to cool. 
Notes
Clear Jel is available at SB Canning Store which you can find here!