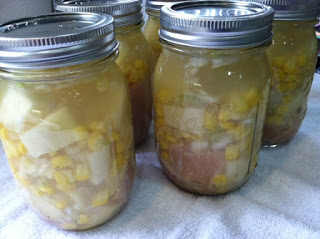 Chicken Corn Chowder
Ingredients
3-4

pc.

chicken thighs - skinned and boned

1

t.

salt

1

cup

diced onion

1/3

cup

diced celery

2

pc.

medium potatoes cubed (3 cups 1/2" cube)

2

cups

corn (frozen must be thawed)

4

cups

chicken broth/stock
Instructions
Preparation:
Prepare 5 pints, lids, and rings. Sterilize the jars and keep them in the hot water till its time for processing. Make sure to fill your pressure canner with the recommended amount of water and bring it to a simmer. Prepare chicken into cubes and dice and cube vegetables. 
Cooking:
In a large stainless steel heat chicken broth/stock over medium heat. Remove from heat.
Filling the jars:
On a dishtowel place your hot jars and using your funnel in each jar fill the jars layering with a portion of the chicken, potatoes then some of the raw cut veggies. You can add a pinch or salt but that is optional for flavor only.

Once all the jars are filled add hot stock leaving 1" headspace. Remove air bubbles and refill to the proper headspace if necessary.

Taking a clean papertowel wet it with vinegar and wipe the rims of the jars removing any food particles that would interfere with a good seal.

Using your magic wand extract the lids from the hot water and place them on the now cleaned rims. Add your rings to the tops of each of the jars and turn to seal just "finger tight". 
Processing:
Make sure your rack is on the bottom of the canner and place the jars in the pressure canner.  Lock the lid and turn up the heat bring the canner to a boil.

Vent steam for 10 minutes, then close the vent by adding the weighted gauge or pressure regulator (for dial gauge canner).

Process pints for 75 minutes at 10 lbs of pressure (11 lbs for dial gauge canner) and quarts at 90 minutes.

(Adjust pressure for altitude)  When complete turn off the heat and let pressure return to zero naturally. Wait two minutes longer and open vent.

Remove canner lid. Wait 10 minutes then remove jars and place on dishtowel in a place that they will sit overnight to cool. Do not touch or move them till the next morning.
Sealing:
Some time in the next hour your jars will be making a "pinging" or "popping" noise. That is the glass cooling and the reaction of the lids being sucked into the jar for proper sealing. Some recipes may take overnight to seal. Check your lids and reprocess any jars that did not seal. Remove rings for storage. 

For making the soup creamy when serving: for pint size. Double for quarts.

For each pint you will need a 1/4 cup heavy cream (or 1/4 cup milk and 1T. Clear jel) and  1 t. fresh thyme or chopped cilantro.

In a sauce pan add the contents of a pint jar.   Stir over medium heat till the soup is heated. Adjust the seasoning of salt or pepper to taste. Return to pot with medium heat and add the cream (or milk and Clear jel) Continue to cook for 3 minutes at a boil.

Remove from heat and sprinkle with a pinch of thyme or cilantro.  Serve hot in soup crocks or bowls.  

Optional: Cook up a few strips of bacon crispy and crumble on top before serving.