One of my favorite desserts and a very popular treat in my family is the holiday pecan pie. This year my sister made the pie and it was so sweet it really didn't take much to satisfy my sweet tooth. The classic pecan pie is made with corn syrup, eggs, and butter. Most of us know that two of these ingredients are just not going to last too long on a shelf without refrigeration.
A couple of things that you will notice with this recipe. Like I said this version is not as dense as the classic but has all the flavor you want from the pecans. You can change up my version if you want by adding vanilla or other spices that you love in your classic recipe but you need to keep the sugar, juices and clear jel the same. Another thing that I noticed is that the color of the jel before adding the pecans is very light and once water bathed the color darkens from the nuts. Another variation would be to add some dried cranberries to give it a twist of flavor.
This recipe makes 2 quarts. You can double and triple it for more quarts. I hope you love it! If you make any variations in flavor please post a comment with your spices or extract changes.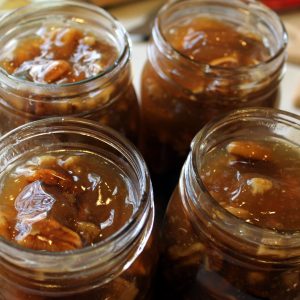 Pecan Pie Filling
I have found a lighter and can-able recipe so that you can put up the filling when you can find pecans at a great price.
Ingredients
3 1/2

cups

pecan halves

2

cups

sugar

1

cup

light brown sugar (if you want a more mollases flavor you can use dark brown)

1/2

cup

Clear Jel®

4

cups

apple juice non-sweetened

1/4

cup

bottled lemon juice

1/2

t.

ground coriander

1/2

t.

ground cinnamon

1/2

t.

ground ginger

1/2

t.

walnut extract (optional)
Instructions
Combine apple juice, sugar, Clear Jel®, and spices andextract in a large kettle.

Stir and cook over medium high heat until mixturethickens and begins to bubble. To keep a smooth consistency use a wire whisk if available. Add lemon juice and boil sauce 1 minute more,stirring constantly. 

Fold in pecans. Fill hot jars without delay, leaving1-inch headspace. Remove air bubbles and adjust headspace if needed.

Wipe rimsof jars with a dampened clean paper towel. Adjust lids and process immediately.Process in a water bath canner for 20 minutes.
How to make the Pecan Pie:
Preheat oven to 400 degrees F (205 degrees C).

Pour contents of 1 Quart or 2 pint jars into an unbaked 9-in pie shell.

Top with pecan halves and bake in preheated oven for 10 minutes at 400 degrees, then reduce temperature to 350 degrees and bake for 30 minutes until crust is golden brown. 

Remember the filling is already cooked so you are just cooking the pie shell and reheating till bubbling the filling.  Let the pie cool some before cutting it.