The word Jardinière is a French word, from the feminine form of "gardener." It has two other meanings one of which is the culinary term, meaning a dish that is cooked or served with a mixture of spring vegetables, such as peas, carrots, and green beans. For canners it's a way to use many of the vegetables we grow in a very classic way.
For Kate these jars are a labor of love; love of preserving.  From Kate: "I volunteer at our church's Alms ministry and get these veggies for next to nothing. So, I bring home, can 'em up and give them to other folks who volunteer there as well… Rather do this, than see them go in the trash since they won't last till the next time we're open…" 
I am so proud of what Kate and what the other canners do for their community and will gladly share the stories. Thank you Kate for giving me Jardiniere!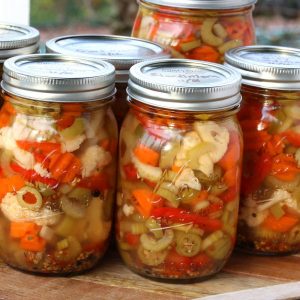 Jardiniere
In classic canning a Jardiniere was a mix of the garden that was put up as a pickled salad.
Ingredients
Brine:
3

pc.

Bay leaves

6

pc.

whole black peppercorns

3

cloves

garlic, thinly sliced

4

cups

white vinegar

2

cups

water

2

cups

granulated sugar

1

Tbs

pickling or canning salt
Veggies:
2

cups

small cauliflower florets

1 1/2

cups

pickling or pearl onions (I didn't have either so I cut up enough onions to make 1 ½ cups)

3

stalks

celery, cut into ¼ in slices ( I did mine on the diagonal so it looks more interesting)

2

pc.

carrots, peeled and cut into sticks 1 1/ inches long and ½ inch wide. (I used same amount of baby carrots instead)

1

slices

small zucchini, cut into ¼ inch

2

strips

large red bell peppers, seeded and cut into ¼ inch

1

strips

large yellow bell pepper, seeded and cut into ¼ inch

1

strips

large green bell pepper, seeded and cut into ¼ inch (I didn't have green so I used yellow)
Instructions
Prepare canner, jars and lids.

Tie bay leaves, peppercorns and garlic in a square of cheesecloth or using a spice ball.

In a large stainless steel saucepan, combine the vinegar, water, sugar, salt and the spice bag/ball. Bring to a boil over medium heat, stirring to dissolve sugar.

Reduce heat, cover, and boil gently for 5 minutes until spices have infused the liquid. Add cauliflower, onions, celery, carrots, and zucchini and return to a boil. Remove from heat and stir in red, yellow, and green peppers. Discard the spice bag/ball.

Pack veggies into hot jars to within a generous ½ in of top of jar. Ladle hot pickling liquid into jar to cover veggies leaving ½ inch head-space. Remove air bubbles and adjust head-space , if necessary, by adding more hot pickling liquid.

Wipe rim with clean cloth or paper-towel, center lid on jar, screw band down till resistance is met, then increase to fingertip-tight.

Place jars in water bath canner, ensuring they are completely covered with water. Bring to a boil and process for 10 minutes. Remove canner lid. Wait 5 minutes, then remove jars, cool and store.

This recipe make 3 quarts.