I have a guest writer and hope that more of my followers will be open to doing them in the future. Today's recipe is from Miranda from Billings, Montana and she is really an amazing cook. Miranda has been sharing some fantastic meals using jars that she has canned but this recipe is one for an amazing soup. Thanks Miranda!
From Miranda: 
This weekend after receiving my Bountiful Basket, I found myself a bit overloaded with celery.  4 bunches actually (two were from the previous week).  Not wanting to waste it I went in search of recipes and found one on Pinterst.  Puréed Celery Soup, sounded delicious, but I knew it was something only I would eat, and freezing would take way too much precious freezer space.  So I reached out to my favorite canning Guru, Cindy at SB Canning.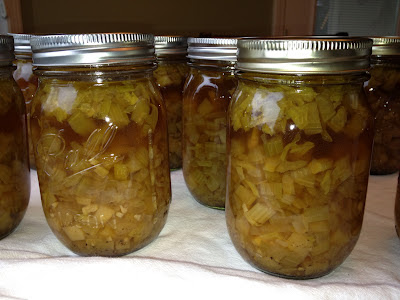 Celery Soup
I adjusted the recipe and made it Pressure Canner friendly!  Here is what I did
Ingredients
1

pc.

med. onion, finely diced

1

lb.

celery, finely diced

1/4-1/2

cup

dry white wine

1

clove

garlic, minced

1

T.

olive oil

1

pc.

med. peeled and diced russet potato

1

Qt.

chicken or vegetable stock
Instructions
Sautée in a Dutch oven in 1Tbsp olive oil until translucent, about 10 min. Deglaze with white wine. Add potato and chicken or vegetable stock, season with salt and pepper to taste, simmer 5 minutes.

With a slotted spoon add vegetables to hot quarts or pint jars about 3/4 full, add hot stock leaving 1 inch headspace.

With a plastic canning tool or chopstick remove air bubbles, check the headspace add liquid as needed.

Wipe the rim and threads with a cloth dampened with vinegar.  Place hot lid on jar, add ring and don't over tighten. Place jars in the pressure canner, put on lid vent for 10 minutes.  

Put the weighted jiggler on and bring pressure up to 11 lbs. (dial gauge and 10lbs for weighted gauge canners) once desired pressure is achieved set timer for 40 min for either pints or quarts.

Turn off heat, wait for pressure to drop, then open lid and wait 15 minutes before placing very hot jars on a towel lined counter or tray.
To prepare Cream of Celery Soup:
When ready to use, heat soup then purée with a stand up or immersion blender.  Add 2 Tbsp. of cream, then drizzled with black truffle oil and fresh dill sprig.  It's nice and light, paired well with a steak and cheese quesadilla!