Emily posted some great jars of jams and jelly that she had made and the "mellow yellow" jar in the picture caught my eye. Something about the fruits and citrus that are yellow that I am always on the hunt for good looking recipes.
Better Homes & Gardens, Can It! Many of the recipes came from a magazine that was published last summer but there are additional great recipes and so many vibrant and earthy pictures in the "cookbook" version.
From Emily:  "Just wanted to say I originally made the honey-lemon jelly because I had so many extra lemons and didn't want to waste them. I have had requests for it… it's really good. I have a friend who puts it in her tea. My sister uses it for a baked chicken recipe. I love it on toast. lol  Who knew it would be so good. I sure didn't."
So many of my followers have a glut of lemons in November to February especially Meyer Lemons and I think this would be amazing with either. Thank you so much Emily for sharing your jars and work with me and the canning followers! Great job!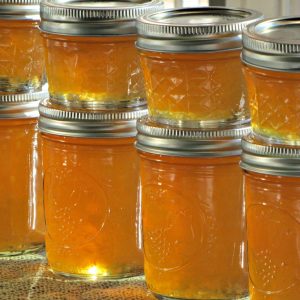 Lemon – Honey Jelly
This particular recipe comes from one of the newer books to hit the canning world this year. 
Ingredients
2 to 3

pc.

medium lemons

1.5

cups

water

3.5

cups

sugar

3/4

cup

honey

3

oz (1 pouch)

liquid fruit pectin
Instructions
Remove the yellow part of the peel of one lemon and cut into small strips. Then juice the lemons. Measure ½ cup of lemon juice. If there is more, you can save for something else.

In a 5 quart pot (or larger) combine the lemon peel, lemon juice, water and sugar. Cook over medium heat until the sugar dissolves. 

Stir in the honey. Bring to a full rolling boil. Add the pectin. Return to a full boil for 1 minute. Remove from heat. Skim foam. Skim out peels (I leave a little because my friends/family like them).

Ladle into hot, sterilized half-pint jars. Leave ¼ headspace. Wipe jars. Adjust lids. Process for five minutes in a water bath canner. Remove jars/cool. 

Additional note from Emily: "I doubled the recipe (because I had doubled before and knew it would work) and it yielded 8 half-pints doubled. FYI."