For me when I teach a class in pressure canning and someone has already master jams and jellies there is a great light you can see above their heads, an absent look in their eyes, and a quiet that takes over as the wheels of "what can I put up" overwhelms them. The most amazing feeling that I truly share with my fellow PC'ers!
Joanne, a new friend and SoCal resident, caught the bug recently and went to work on a white bean chili recipe that I love simply because she made it without the chicken. I have so many people who are looking for recipes without meat. You can make this recipe and add the chicken later. It's a bean and corn mix that would be great as a side dish with chicken or just about anything bbq'd.
From Joanne: "When serving add cooked chicken cut up into bite size pieces. Add ½ cup sour cream to each jar and top with grated white cheese."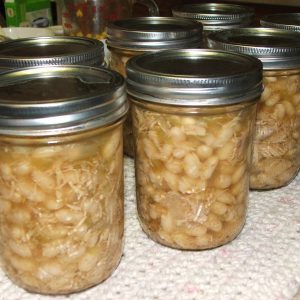 White Bean Chili
This is a very simple recipe to put together and has more versatility than just a chili for me.
Ingredients
1

lb

white beans soaked but not cooked (I soaked for 6 hours)

6

cups

chicken broth

1

pc.

med. onion chopped

6

cloves

garlic

7

oz

canned green chili

1

lb

bag frozen white corn

4

tsp

cumin

1

tsp

oregano

2

tsp

ground cayenne
Instructions
Preparation:
Jars, Lids, and Canner! Chop the onion, garlic, green chilis and set aside.
Cooking:
Put the beans in a big pot and cover with water. Low boil for 30 minutes. Add all the other ingredients to a stainless steel or enameled cast iron pot. Bring to a boil, stirring occasionally, then turn off the heat.

Add the bean that have now been boiled for 30 minutes to the rest of the ingredients. Your beans will not be completely cooked but the pressure canner will finish the cooking.
Filling the jars:
On a dishtowel place your hot jars Add the mixture ¾ up from the bottom of each jar using your slotted spoon and the jar funnel. Try to add equal to each jar.

Next add the broth liquid into the jars leaving 1" headspace.  Remove air bubbles and refill to the proper headspace if necessary.

Taking a clean papertowel and wipe the rims of the jars with white vinegar removing any food particles that would interfere with a good seal.

Using your magic wand extract the lids from the hot water and place them on the now cleaned rims. Add your rings to the tops of each of the jars and turn to seal just "finger tight".
Processing:
Make sure your canning water has come to a simmer and place the jars in the pressure canner.  Lock the lid and turn up the heat bring the canner to a boil.

Vent steam for 10 minutes, then close the vent by adding the weighted gauge or pressure regulator (for dial gauge canner). Process pints for 75 minutes at 10 lbs of pressure (11 lbs for dial gauge canner) and quarts at 90 minutes.

When complete turn off the heat and let pressure return to zero naturally. Wait two minutes longer and open vent. Remove canner lid. Wait 10 minutes then remove jars and place on dishtowel in a place that they will sit overnight to cool. Do not touch or move them till the next morning.
Sealing:
Some time in the next hour your jars will be making a "pinging" or "popping" noise. That is the glass cooling and the reaction of the lids being sucked into the jar for proper sealing. Some recipes may take overnight to seal. Check your lids and reprocess any jars that did not seal. Remove rings for storage.

Makes 7 pints (Joanne used 5 ½ jars (pint and half size).