Over the summer Better Homes and Garden published a canning magazine filled with lots of great recipes. Many of them I have done and posted on my site. Last week BH&G decided that they were going to take that magazine, add some more pictures, and a few more new recipes and put together a Canning Cookbook! The book Better Homes and Garden Can It! arrived to me on Friday and I was very excited to see what new recipes I was going to have to make.
Today I put everything aside and for the first time in a while worked to get four new recipes on my list canned and processed. It was important for me to use up some tomatoes that I had received from my neighbor who was going on vacation and to put into jars something that they would like to have when they got home. I had about 4 pounds of tomatoes and decided to look through the BH&G book there it was…  Fire Roasted Tomato-Ancho Taco Sauce! This is a new recipe not in the summer magazine and since I have not done a taco sauce and I know the neighbors would love it I got to work.
I used the vine tomatoes that I was given versus the plum tomatoes the recipe calls for in the cookbook. I didn't find an issue but it did take an additional 10 minutes to cook down after I strained out the seeds to get a thick consistency.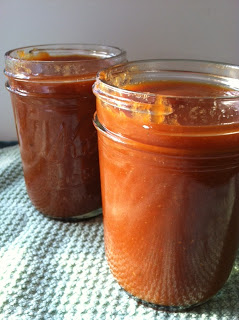 Fire Roasted Tomato-Ancho Taco Sauce
This recipe is not a quick one, but a great flavor will develop over the cooking processes that makes the final product well worth your time.
Ingredients
4

lb

plum tomatoes

1

t.

cumin seeds

8

oz

fresh poblano (pasilla)chile,  seeded and chopped

1

cup

chopped onion

1

pc.

fresh jalapeno peppers, seeded and chopped

4 1/2

t.

minced garlic

4 1/2

t.

sugar

1

T.

kosher salt

6

pc.

dried ancho chili peppers, seeded into 1 inch pieces

1 1/2

t.

lime juice

1/4

cup

white vinegar
Instructions
Preheat broiler. Place tomatoes in a single layer in a 15x10x1 inch baking pan. Broil 3 to 4 inches from the heat for 8 to 10 minutes turning once until skins are lightly charred.

Transfer to a cutting board. When cool enough to handle, remove and discard loose skins. Coarsely chop and transfer to a large stainless steel, enameled or nonstick pot.

Meanwhile, place the cumin seeds in a small skillet. Cook over medium heat, stirring frequently, until seeds are lightly toasted and fragrant.

Remove from the heat and let cool. Finely, grind the seeds in a spice grinder or using a mortar and pestle, stir into the tomatoes in pot.

Add the poblano peppers, onions, jalapeno peppers, garlic, sugar, and salt to the tomato mixture. Bring to boiling, stirring frequently.

Reduce heat and simmer, uncovered, until peppers and onions are soft, about 30 minutes. Stir in ancho chiles. Cover and let stand for 30 minutes. 

Working in batches, transfer tomato mixture to a food processor or blender. Cover and process or blend until smooth. Strain mixture through a fine-mesh sieve, pushing liquid through and scraping the inside of the sieve with a rubber spatula, discard solids.

Repeat with remaining mixture. Return strained mixture to the large pot. Bring to boiling, reduce heat. Simmer sauce, uncovered, about 10 minutes or until slightly thickened  and reduced to about 4 cups. Stir in lime juice and vinegar. 

Ladle hot sauce into hot, sterilized half pint jars, leaving a 1/4 inch headspace. Wipe jar rims, adjust lids.

Processed filled jars in water bath canner  for 35 minutes (start timing when water returns to a boil). Remove jars and cool overnight.

I didn't discard the solids, but put them in the frig to use as a schmear for the pork loin on the barbecue.