So yesterday with my bean recipe that didn't work quite right I had a pound of Great Northern Beans prepped and ready for canning. Since the sauce didn't make the grade I decided to pair it with the sausage that my hubby made to have a bean and sausage soup in a jar. The amount of fantastic flavor of the sausage was just what I wanted to flavor those simple and plain beans. I used a chicken broth as my liquid to add another layer of flavor! If you don't have a lot of sausage this is a great way to flavor your beans also. Enjoy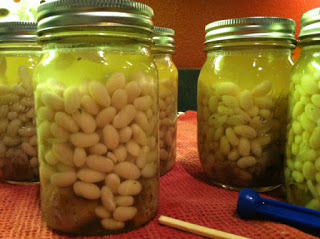 Beans and Sausage
Beans and Sausage
Ingredients
1

lb

dried beans (I used great northern)

2

quarts

water 

6 to 8

links

sausage (I used the Southwestern Pork Sausage)

6

cups

chicken broth or stock
Instructions
Preparation:
Prepare 5 pint jars, lids, and rings. Sterilize the jars and keepthem in the hot water till its time for processing. Make sure to fill yourpressure canner up to the "fill" line and get the water to a simmer.

Select mature, dry beans. Sort out and discard discolored beans.
Cooking:
Put the beans in a big pot and cover with water. Bring beans to a quick boil and turn off the heat. Let the beans sit for an hour.

Cover the expanded beans with more water and cook them for 30 minutes. Try to keep them at a simmer. Boiling the beans may split them.

Cook the sausage in a frying pan with a little oil just so they don't stick. You will need to cook them through.  In a separate pot bring the chicken broth/stock up to a simmer. 
Filling the jars:
On a dishtowel place your hot jars in a semi circle leaving roomfor your pot that has your recipe. Cut your sausage into 1 to 2 inch pieces. Add them to the bottom of the jar.

Using your slotted spoon ladle the beans into the jar filling to 3/4 of the way then add the broth/stock liquid into the jars leaving 1" headspace. Note: If you are using pintos or kidneys or a more expanding bean you want to only fill half way.

Start from the top of the semi circle and work your way to the end. Remove air bubbles and refill to the proper headspace if necessary.

Remove your recipe and taking a clean papertowel and wipe the rims of the jars with white vinegar removing any food particles that would interfere with a good seal.

Using your magic wand extractthe lids from the hot water and place them on the now cleaned rims. Add your rings to the tops of each of the jars and turn to seal just "fingertight". 
Processing:
Make sure your canning water has come to a simmer and place the jars in the pressure canner.  Lock the lid and turn up the heat bring the canner to a boil. Vent steam for 10 minutes, then close the ventby adding the weighted gauge or pressure regulator (for dial gauge canner).

Process pints for 75 minutes at 10 lbs of pressure (11 lbs for dialgauge canner) and quarts at 90 minutes.

When complete turn off theheat and let pressure return to zero naturally. Wait two minutes longer andopen vent. Remove canner lid.

Wait 10 minutes then remove jars and place on dishtowelin a place that they will sit overnight to cool. Do not touch or move them tillthe next morning.
Sealing:
Some time in the nexthour your jars will be making a "pinging" or "popping"noise. That is the glass cooling and the reaction of the lids being sucked intothe jar for proper sealing. Some recipes may take overnight to seal. Check yourlids and reprocess any jars that did not seal. Remove rings for storage.