Sometimes as the weather gets cold during the winter new friends like Miranda,  who lives in Montana, wakes to a 10 F morning, and probably can't wait to turn up the heat under the pressure canner. Last night we were talking about a black bean soup and today after a night of sorting and soaking Miranda put up some great bean soup.
From Miranda:  The big thing is to taste the broth and be sure the flavor suits you before putting it in the jar.  Make the recipe your own!  Enjoy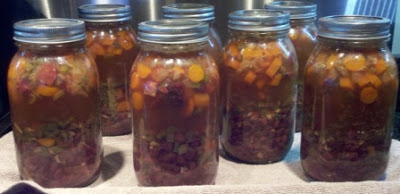 Black Bean Soup
Ingredients
1

lb.

bag of dried black beans

2

pc.

Onions, one halved and one finely diced.

4

pc.

carrots diced

3-4

cloves

garlic, minced

1

pc.

pablano pepper seeded and diced or any spicy pepper you like (optional)

2 1/2

quarts

chicken stock

2

cups

ham diced

2

tsp.

ground cumin

3

tsp.

kosher salt (adjust to taste)

1 1/2

tsp.

fresh ground black pepper

1/2

tsp.

pepper (optional)

2

tsp.

Mexican Oregano
Instructions
*Sort, and wash beans. Soak overnight in bowl with enough water to cover by 3 in.

*Drain, rinse and put in a pot, cover with cold water by 3 in. Add the onion cut in half. Bring to a boil, reduce heat, simmer for 30 min.

*Prepare jars for canning

*In another pot combine chicken stock, spices and vegetables. Allow to simmer for 5 minutes until heated thru.

*Strain beans, discard liquid and onion. Strain stock, reserve vegetable and stock.

* In a hot pint jar fill ¼ full of beans, add ¼ cup vegetables and ham add stock leaving 1 inch headspace. Remove air bubbles adjust level to 1 inch, wipe rim and add hot lid.

Pressure can pints for 75 minutes, quarts for 90 min. at 10 lbs. or on 11 on dial gauge.

Makes about 6-7 pints or 3-4 quarts.