I was at the Vieja Valley garden exchange on Sunday this past weekend and met a women who brought a half box of Bartlett pears to exchange. I spoke with her about her tree and told her about exchanging pears for jars of jams and preserves and she was interested in making that happen. Magic! I had pears!
I saw the recipe from the Better Home & Garden Canning Magazine for the Rosemary Pear Preserve. I knew that I wanted to try it when I could get local pears but thought that was a long way off. The recipe in the magazine calls for "ripe" Bosc or Bartlett pears but once the recipe was in the pot the picture in the magazine didn't look anything like mine. Interestingly the recipe also calls for the pears to be diced which isn't usually the instruction of a preserve. Of course I followed the instructions to the letter, but the recipe was more of a soupy texture and the "sheeting" off the metal spoon was not happening.
After the 25 minutes of cooking down the pears, sugar and honey to try to get the effect I needed I was getting frustrated that I was looking at the pears disappearing into the abyss of sugar. It no longer looked like a preserve – beautiful chunks of fruit in a syrupy gel, but looked more like an un-rememberable pear jam. I continued to work with it and after 45 minutes of heat and stirring I gave in to temptation and added 2 teaspoons of Ball flex batch pectin to help it along. I feel bad that I cheated but if any of you have ever burnt your jam trying to get it to the gel stage you know that in your heart you wish that you had done something desperately to not destroy your hard work. I finally got it to the jam consistency after adding the pectin and ladled it into jar to process.


I want to be clear that I am not critiquing the recipe for the flavor. The strong zest of the slivered lemon rind and the somewhat pungent taste of the rosemary, pared with the sweet bite of the pear, and even a hint of the honey, the jam is really something that you will not expect to be that GOOD. So I am renaming this inspirational, but not so accurate depiction of a preserve, to Lemon Herb Pear Jam.
I would love to try this again to see if I can get closer to the picture in the magazine, but I think the key to it will be using harder "unripe" pears since the pears breakdown quickly when they are "just ripe" and soft. Enjoy!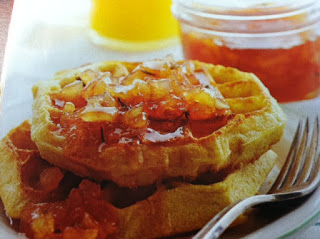 Rosemary Pear Preserves
The recipe I am posting is the original version from the Better Homes and Garden Canning Magazine with the adaptations for my Lemon Herb Pear Jam in brackets.
Ingredients
4 to 6

pounds

ripe Bartlett or Bosc Pears (about 10 medium)

3

cups

sugar

1

cup

honey

2

t.

finely shredded lemon peel

1/2

cup

lemon juice (I used bottled lemon juice)

2

t.

snipped fresh rosemary (I finely minced the leaves to spread the flavor)

2

t.

Ball flex batch pectin
Instructions
Core and peel pears. Finely chop enough pears to measure 8 cups.

In a 4 to 5 quart heavy pot, combine pears, sugar, honey, lemon peel, and lemon juice.

Bring to boiling, stirring until sugar dissolves. Stir in rosemary.

Simmer, uncovered, for 20 to 25 minutes or until mixture sheets off a metal spoon, stirring often. (Add pectin if you don't get it to gel stage and then bring back to boil for one minute) Remove from heat. Quickly skim off foam with a metal spoon.

Ladle hot preserves into hot, sterilized half-pint canning jars, leaving a 1/2 inch headspace. (Should be 1/4" headspace for jam/preserves) Wipe jar rims; adjust lids.  Process in water bath for 10 minutes at a full rolling boil.