After a crazy Monday the canning on Tuesday was a welcome evening in the kitchen relaxing with two great ingredients. Plums, dark and sweet, and Rhubarb, red and tart and needing a new recipe to heighten the flavors.
Lavender sits on the window sill of my kitchen to dry for that one recipe that needs that special floral flavor. It grows everywhere in my neighborhood and I find the smell so relaxing, but today it will be the marriage with the Rhubarb in my pot.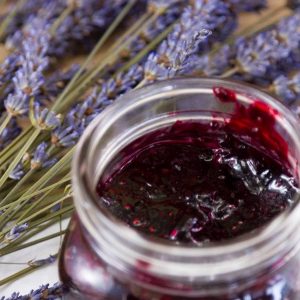 Rhubarb Lavender Jam
Here is my small batch Rhubarb Lavender Jam.
Ingredients
1

T.

bottled lemon juice

1 1/2

T.

Ball Flex Batch no sugar/low sugar
Instructions
In a small saucepan, bring water and lavender to boil. Remove from heat, cover and steep for 15 minutes. Strain water into large bowl, discard lavender. 

In a stainless steel pot combine rhubarb and lavender water and heat on medium. Continue to cook mixture until rhubarb cooks down and is tender, about 20 minutes.

Using a potato masher break down the rest of the rhubarb. Remember the when the rhubarb gets thick it will boil with a splatter effect.  

Add lemon juice and sugar and bring back to a boil.   Add pectin and return to full boil, whisking and boil 1 minute. Remove from heat.  Ladle jam into sterilized jars, leaving 1/4 inch headspace. Process in boiling water bath for 10 minutes.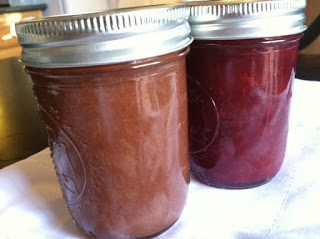 Balsamic Plum Jam
I put together the flavors in a very basic, small batch,  and simple recipe
Ingredients
4

cups

dark or black plums, pitted and diced

1 1/2

cups

sugar

1

T.

good balsamic vinegar

1 1/2

T.

Ball Flex Batch Pectin
Instructions
In an enameled dutch oven on low heat cook the plums until they are soft stirring often. Plums easily burn so stay attentive. Once the plum are softened using a potato masher break down the plums until only small bits are left.

Add the sugar and balsamic bring the mixture up to a boil, stirring constantly. Once the mixture is boiling add the pectin, return to a boil for one minute.

Ladle the recipe into the jars leaving 1/4" headspace. Process in water bath at a full boil for 10 minutes.
Notes
I really enjoyed the original strawberry balsamic and thought about the combination with the plums and whether it would be interesting since the sweetness of the balsamic adds some depth to the jam flavor.