If you are like me you have zucchini now coming fast and you may not have enough things to do with it. I turned to the section in the Better Homes and Garden magazine on canning to see what they had come up with. They have a whole section on "bountiful zucchini" with four recipes to work on. I decided to try the zucchini relish since I have a recipe using cucumbers to make relish and I wanted to do a comparison.
The recipe is a bit of work since everything has to be diced, but again great practice on my knife skills to keep everything proportional. I know that sounds silly but it is something that I really want to do well in cooking.  The result was a better flavor than the cucumber version and the zucchini, onion and peppers were still crunchy in the tester jar I put into the frig after water bathing it on Sunday night. It's less sweet than its cucumber version which made me think it could be more versatile for potato salad, tuna salad, and of course on hot dogs.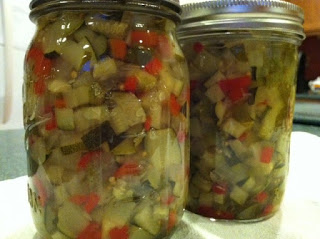 Zucchini Relish
Ingredients
1 1/2

cups

finely chopped onions (3 medium)

1/4

cup

finely chopped green sweet peppers (1 medium)

1/4

cups

finely chopped red sweet peppers (1 medium)

1/4

cup

pickling salt

Cold water

1 3/4

cup

sugar

1 1/2

cups

white vinegar

1/4

cup

water

1

t.

celery seeds

1

t.

ground tumeric (I omitted)

1/2

t.

mustard seeds

1-2

drops

green food coloring (optional)(I omitted)
Instructions
In a large non-reactive bowl combine zucchini, onions, and sweet peppers. Sprinkle with salt, toss gently to coat.

Add enough cold water to cover vegetables. Cover and allow to stand at room temperature for 3 hours.

Transfer vegetables mixture to a large colander set in sink. Rinse with cold water; drain.

In a 8 quart stainless steel, enamel or nonstick heavy pot combine sugar vinegar, the 1/4 cup water, celery seeds, turmeric, and mustard seeds.

Bring to boiling, stirring until sugar dissolves, reduce heat. Simmer uncovered for 3 minutes.

Add drained vegetables mixture and if desired green food coloring. Return to boiling, reduce heat. Simmer uncovered for 10 minutes stirring occasionally.

Ladle hot relish into hot, sterilized half-pint jars, leaving 1/2 inch headspace.

Wipe jar rims, adjust lids. Process in boiling water bath canner for 10 minutes (starting with the canner water returns to a full rolling boil) Remove jars from canner.