I have been so busy that I haven't posted the recipes that I have worked on over the last week. I did add some new tips and information to the bottom of this page; questions about syrups for canning whole fruits and the question about headspace for different types of recipes.
Last week my sister came through for me again with a friend of hers that has avocados growing and also Meyer lemons. Now normally I am not a lover of the strong lemon flavors.  I don't like chicken picatta, hollandaise, or lemon meringue pie, but I looked at these amazing yellow lemons she brought and had to put something into jars.
I looked through the Complete book of Small Batch of Preserving and found a marmalade with some ingredients that I already had in my pantry. I have made a "basic necessities" list for my pantry in the "Canning Tips/Questions" tab that has served me well when I get inspired. The recipe that caught my eye was the Lemon Ginger Zucchini Marmalade.  I know it may seems like a strange combination all in a jar. My zucchini is flourishing in the garden so I was excited to use it in a different way. This also had a dual purpose in my head that it will be great as a brushed on "sauce" for barbecued chicken. Even though I keep telling myself I don't like lemon, I take the leap of faith.
Note: From this one recipe and the combination of these three main ingredients the taste was so unique that I think that I could be converted. I know the reasons why I don't like picatta is the chicken soaked with the combination of lemon and capers, the hollandaise is that funky feeling of having a lemony sauce on my beautifully poached eggs or my al dente asparagus, and there is just something about lemons as a pudding or custard that just makes my cheeks pucker.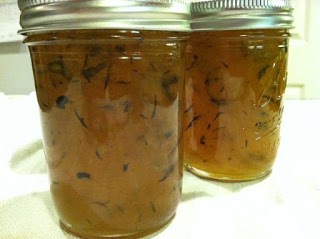 Lemon Ginger Zucchini Marmalade
Here is the recipe which now is part of my special section in the pantry – "Foods you hate to love" 
Ingredients
3

pc.

lemons

1

pc.

medium orange

2 1/2

cups

water

1/2

cup

chopped fresh peeled ginger root (I used 1/3 cup chopped crystallized ginger)

1

cup

shredded zucchini

4 1/2

cups

granulated sugar (I used all the sugar so I wouldn't have so much pucker action)
Instructions
Remove the thin outer rind from lemons and orange with vegetable peeler and cut into fine strips with scissors or sharp knife; or use a zester. Place in a large stainless steel or saucepan.

Remove the remaining white pith in large pieces and add to saucepan. Stir in water and ginger root.

Bring to a boil over high heat, cover, reduce heat and boil gently for 25 minutes.

Using tongs remove and discard white rind.

Finely chop fruit pulp in a food processor or blender.

Add pulp and zucchini to saucepan. Bring to a boil over high heat, reduce heat, cover and boil gently for 20 minutes, stirring occasionally.

Add sugar to fruit mixture. Return to a boil* and boil rapidly uncovered, until mixture will form a gel**, about 30 minutes, stirring frequently.  

Ladle into sterilized jars, remove excess air and fill to ¼" headspace.

Wipe rims and add hot lids and rings. Process the jars for 10 minutes in a water bath at a full boil.

* (If you want to skip the gel point and not cook it down for another 30 minutes you can add 3 T. of Ball flex batch pectin now and return to a boil for one minute. After the minute proceed to ladling.)

**For the gel; I used the freezer plate test method. (Located on the front of the website toward the bottom right for directions)