What a fantastic group of people who came today to the Beginning Canning Class. It was a lot of information for them to take in for four hours, but I think that they got the basics since everyone was coming up with ingredients they wanted to put into jars. We started the class as always with the basics, the tools, the vocabulary, and the food safety. I was very excited to see that everyone was ready to do the hands on work since I know that when I started that was how I really learned. We made a strawberry jam so they could work on each process of cooking, adding sugar, adding acid, then adding pectin and skimming the foam. They all got an opportunity to ladle, clean rims, and hear their finished product make that wonderful ping, to know that their jars had sealed.
We seemed to have so much time that we did a second recipe and the ideas came flying. Blueberries were the final agreed on fruit and we decided to add wine and cayenne to add a bit of spice. I was very careful to continue to coach the recipe since I wanted to make sure they understood the importance of the acid, sugar, and pectin ratios.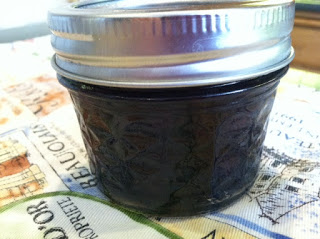 Blueberry Cayenne Wine Jam
Here is the recipe we came up with using proper proportions and oh my is it yummy. 
Ingredients
6

cups

frozen blueberries

1

cup

red wine

1

cup

sugar

1/2

t.

cayenne

3

T.

Ball Flex Batch no sugar/low sugar pectin
Instructions
Sterilize 4 half pint jars. In a dutch oven or stainless steel pan cook the blueberries till they come to a simmer. Add the wine and cook for an additional 5 minutes stirring occasionally.

Add the sugar and stir till the recipe comes to a boil. Add the cayenne.  Add the pectin and return the batch to a boil for one minute. 

Remove from heat and ladle into the jars. Clean rims and add lids and rings. Put jars into a water bath and process at a full boil for 10 minutes. 

There were two jars that we omitted the cayenne from that were just as tasty if you prefer it without the spice.
Notes
There were a lot of conversations going on and I could see the lights going on and the wheels turning. I accomplished what I set out to do, "pay it forward". There are six more people in this small town that have left with a skill that I hope that they pass on to a friend or their children.  Thanks again to Jennifer, Julia, Alex, Lauren, Corena, and Marilyn. You were all a pleasure to teach and I hope you keep coming back to share you success with our canning group.