The Rhubarb keeps coming and I want to continue to do canning recipes but go beyond the jams and jellies. My canning group did this recipe back in December when one of the ladie's Rhubarb plant was going crazy. I was skeptical since it was coming out on the "tan" side, but this was really an incredible fruit salsa and would love to make it again.  The canning group does most of the recipes in half pints so that we can share. This recipe did 5 half pints when everything was done.  Enjoy!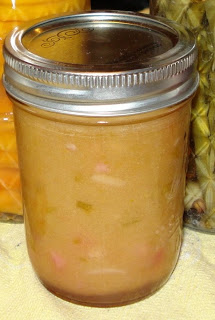 Rhubarb Salsa
Rhubarb Salsa
Ingredients
6

cups

Rhubarb; sliced 1/2-inch thick

1

cup

sugar

1/4

cup

Water

1

cup

Finely shredded orange peel

1/2

cup

Diced green bell pepper

1/4

cup

Finely chopped sweet onion

1/3

cup

Finely chopped red onion

1

pc.

Jalapeno; washed, stemmed, seeded and minced

2

tablespoons

Honey

2

tablespoons

Lemon juice

1/2

cup

cider vinegar

1

teaspoon

Grated fresh ginger
Instructions
In a medium nonstick saucepan, combine the sugar, water and orange peel. Bring to a boil over high heat.

Add the rhubarb slices and reduce the heat to medium. Simmer gently until the rhubarb is tender, about 20 minutes.

Remove from the heat and allow to cool to room temperature.

When the rhubarb mixture is cool, transfer it to a food processor fitted with a steel blade, or to a blender, and process until smooth.

Scrape the puree into a large bowl and add the bell pepper, sweet onion, red onion, jalapeno, honey, lemon juice, vinegar, and ginger. Mix well. 

Ladle into hot jars and process 20 minutes in water bath canner at a full boil.

Serve alongside or with chicken or turkey, or as a topping over leafy greens.