As many foodies have evolved most have at one time or another have been fixated on one of the shows on the  Food Network. My late night "laying in bed trying to get tired enough" has been the reruns for a few years of Diners, Drive Ins, and Dives with Guy Fieri. He is entertaining and love to end my day with his knowledge and endless comedy.
Last week on an episode where he visited a diner in Memphis, Tennessee called Alcenia's they showed a "southern" chow chow recipe for cabbage that seemed out of this world. Now of course they don't give you all the measurements of ingredients and it maybe also true that they don't show all the steps in making it but the final picture of the mixture was the only inspiration I needed to recreate, as best I could, this fantastic recipe. No, the recipe was not on Food Network website and Alcenia's does sell the jar of their Cha Cha (their nickname) for about $8. But one of the best parts about being a foodie is trying to recreate, coming close, and loving the final product.
I am giving you the YouTube link http://www.youtube.com/watch?v=1PpGd_80fQs so you can check it out also!  I cut the amount of the recipe but here it is and the final product is sooo good. What a treat! Enjoy.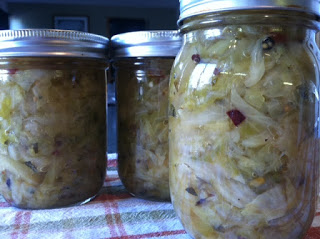 Chow Down Pickled Cabbage
I made a batch and then had turkey polska kielbasa for dinner with one of my home made mustard.
Ingredients
2

heads

white cabbage - cored and shredded

1/4

cup

kosher salt

2

cups

water

3

cups

white vinegar

4

T.

pickling spice

1

pc.

each serano, jalapeno, and banana pepper - diced

2 1/2

cups

sugar

2

cups

sweet onions- sliced
Instructions
In a bowl put in the cabbage and cover with salt. Toss and set aside for two hours so that the salt will soften the cabbage.

After two hours rinse the cabbage twice to remove as much salt as possible. In a large dutch oven heat water, vinegar, sugar and in a tea ball or tied cheese cloth add pickling spice. Heat to a simmer until the sugar is dissolved.

Add the peppers then the shredded cabbage and onions. Cook for two hours stirring occasionally. Remove pickling spice ball just before ladling.

When you are fifteen minutes ahead of the cabbage being done, sterilize your jars, lids and rings. Pack the hot cabbage in without the liquid filling it to about 1" headspace and then ladle to 1/2" headspace the liquid removing any air bubbles. Add lids and rings and water-bath for 20 minutes.