I had a great time the other night working on another blood orange marmalade with an infusion of passionfruit tea. The flavor combination was fantastic and surprising that it mellowed the tartness of the blood orange. I used 2 cups of cane sugar which was plenty. The marmalade color was darker than the first batch that I made. I think that blood oranges have different levels of "redness" that make these fruits so exciting to work with.  The Passion Fruit tea that I used was again from Vices and Spices here in Santa Barbara.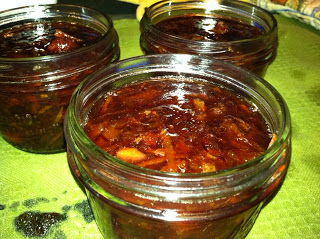 Passion & Orange Marmalade
Again this combination of flavor gave the marmalade an additional layer of sweetness but helped with the natural tartness of the blood oranges without the addition of sugar.
Ingredients
8

pc.

small blood oranges

1

T.

Passion fruit tea leaves

2

cups

cane sugar
Instructions
Using a vegetable peeler peel the skin off the blood oranges. Using a sharp knife cut the peel into julienne strips and put into a dutch oven.

In two cups of water seep the tea for 10 minutes. Add the water to the peels and cook on high for 10 minutes softening them. Put the tea ball into the mixtures to continue to infuse the tea flavor.

Remove the pith from the blood oranges and then cut or use a food processor on pulse to make the oranges into small pieces.

After the peels have cooked with the tea for 10 minutes add the orange pieces and cook an additional 15 minutes on high before adding the sugar. Remove the tea ball before adding the sugar.

Once the sugar has been added continue to cook the marmalade until it reaches its gel point, which is about 20 minutes.

After the gel point is reached sterilized your jars and lids. Ladle the mixture into jars and waterbath for 15 minutes at a full rolling boil.