The month is coming to a close and I have been so busy with my real job that I haven't had much time to blog. Today is my monthly canning group meeting and I am so excited to see everyone again now after the holidays are over. We will be working today with the pressure canner and making the vegetarian chili that we have on the SB Canning Group section of my blog.
I have RSVP's for 10 people so last night I had to make a batch of the chili since the pressure canner will only hold 8 pints. It also gave me a chance to prep and time the recipe since we meet for about 3 hours. Most recipes using dried beans take at least 75 minutes in the canner.
Having done a couple of recipes now I want to say that the dried bean is not always foolproof. In this recipe it was a bit misleading. One thing that I have learned about beans is expansion. The basic recipe calls for 2 pounds of dry bean and to soak them over night in cold water to prepare them. As many of you may know or have learned by experience two pounds of dry become 4 plus pounds of soaked. With the other ingredients that are in this recipe that ratios didn't seem quite correct and so I reweighed the beans to divide the portions. I weighed five pounds of beans, two and half pounds per recipe.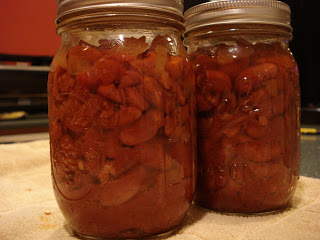 Vegetarian Chili
Vegetarian Chili (pressure can only)
Ingredients
2 1/2

lbs

soaked pinto or kidney beans

4

T.

chili powder

1

cup

diced onion

2

cups

diced tomatoes

4

cups

water
Instructions
Cook all the ingredients above in a stainless steel pot. Continue to cook till the recipe comes to a boil. Ladle chili beans without much liquid into pint jars 2/3rds full.

Add liquid to bring the level to 1" headspace. Remove air bubbles and refill with liquid if necessary. Wipe rims, add hot lids/rings, and place in pressure canner.

Process in pressure canner pints for 75 minutes at 11lbs of pressure for dial gauge and 10lbs for weighted gauge canners. 

The quantity of beans for this recipe now looked great and I also adjusted the recipe from 6 Tablespoons of Chili powder to 4 since I wanted to see how spicy it would turn out.

Another observation about the recipe is that chili is supposed to be loose or at least have some liquid to it.

As you cook the chili in the pressure canner the beans will continue to cook and absorb more water. So make sure that you fill the pint jars with about 2/3rd full of just the bean portions as you first ladle and then finish to 1 inch headspace with the liquid only.

I processed the chili for 75 minutes at 11 pounds for my dial gauge canner and after about an additional hour out of the canner I opened a jar to make sure that it was the flavor that I wanted it to be.

Since I have the group coming today they will have the opportunity to try it ahead of time. My husband loved it, said that it has just the right amount of kick or spiciness and the beans were cooked well with the onion and tomato adding great flavor to the best vegetarian chili he had ever tasted.

I am anxious to get started with the group. I will be teaching most of the first half hours since most of them have never pressure canned before. I am posting the recipe for all of my followers and my "stealth" visitors along with the pictures.

I hope that if you are a water bath canner only that you will soon find a source since the opportunity to make incredible meals can be expanded with the art and science of pressure canning.

I will post the handouts about pressure canning that I give to the group today on the SB Canning Group tab of this blog later this evening if you are interested in knowing more about it.