Today, we will use chicken breasts preferably organically grown, which will supply our protein. The garnishes are mango chutney, low fat mayonnaise, along with salad and pine nuts and celery, and red peppers; all healthy foods for us. Let's get to it.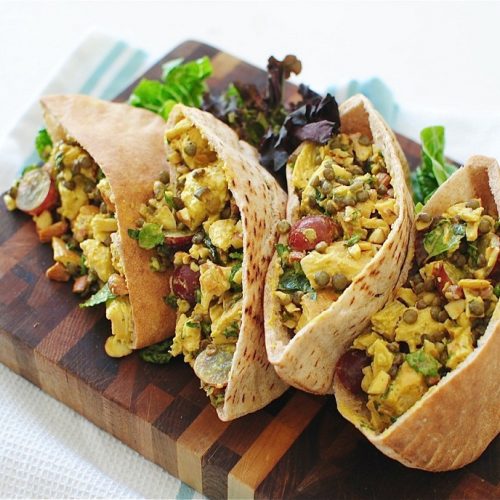 Curry chicken salad in pita bread
SBcanning offers great results with this Curry Chicken Salad which we will serve with Whole Wheat Pita Bread.
Ingredients
1

lb

boneless, skinless chicken breasts

1

cup

Juice of one lemon

1/2

cup

red pepper chopped

2

tbsp

low-fat mayonnaise

2

tbsp

low-fat sour cream

2 1/2

tbsp

mango chutney

1/4

tsp

curry powder

1/2

cup

chopped celery

1/3

cup

dark raisins

2

tbsp

chopped chives

2

tbsp

unsalted pine nuts

1

Freshly

ground black pepper to taste

1

Dash

of Sea Salt to taste
Instructions
Add chicken to large saucepan and cover with lemon juice, and just enough water to cover the chicken breasts.

Reduce the heat and simmer for 10 minutes, draining the chicken and allowing it to cool.

In large mixing bowl, mix the low-fat mayonnaise, low-fat sour cream, mango chutney and curry powder, continuing to stir, while adding raisins, celery and red pepper.

As the chicken cools, cut into 1/2 inch pieces and add it to the mixing bowl. Cover and refrigerate until ready to serve.

Add the chives and pine nuts just before serving. Season with freshly ground pepper and dash of sea salt.

Serve with warmed pita pockets. Pita pockets make excellent sandwiches, great for school lunches or even for that last minute drop in company!