This healthy recipe originated in 'Sara's Secrets for Weeknight Meals', and I must say, once I tested, I give it a thumbs up! All very healthy for us!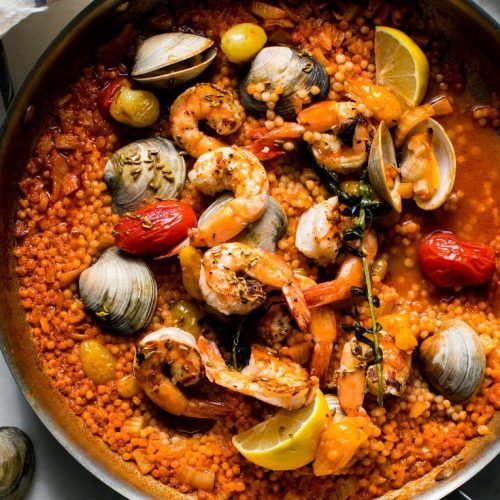 Shellfish & pearl couscous
The recipe has every seafood I like personally, plus it is loaded with garlic, white wine and the couscous is the finishing touch.
Ingredients
4

tbsp

extra virgin olive oil

8

small

sea scallops

8

medium

shrimp(king size fresh frozen will do nicely) or fresh shelled and de-veined shrimp

1/4

cup

finely chopped shallots

2

cloves

elephant garlic minced

3

plum

tomatoes (about 8 oz) finely chopped

1

cup

white wine

1

dozen

mussels, scrubbed and de-bearded

1

dozen

little-neck clams, scrubbed

1-1/2

canned

chicken broth (or stock)

1

cup

pearl or Israeli couscous

1

dash

Kosher salt

1

Freshly

ground black pepper
Instructions
Heat 2 tbsp of olive oil in large skillet over high heat until hot and reduce the heat to medium high, then adding the scallops and shrimp. Cook scallops and shrimp turning once until almost cooked through; about 2 minutes in total.

Using tongs, move scallops and shrimp over to a strainer set, over a bowl and set aside.

Add shallots to skillet and cook over medium-low heat until softened (approximately 2 minutes), stirring one more minute. Add the tomatoes and cook for 3 minutes.

Add the white wine, and clams. Cover skillet and increase the heat to high for about 3-5 minutes, transferring as the clams and mussels open over to the strainer (metal) with the shrimp and scallops. Discard any mussels and clams that do not open.

Measure tomato mixtures in the skillet; add the liquid from the bowl under the shellfish; and enough chicken broth to make 2 cups of juice.

Heat remaining 2 tbsp of olive oil in a saucepan over medium heat and add the couscous. Cook , stirring for 3 minutes. Add the 2 cups juice liquid bringing it to a boil. Turn down to a simmer, cover the pan and cook for 5 minutes, or until the couscous is tender.

Meanwhile, remove and throw away the mussel and clam shells, and add the shellfish to the couscous along with any more juices from the bowl. Cook until just heated through.

Add Kosher salt and freshly ground black pepper to taste, and serve in a regal dish to show this off!

Serves 4-and is simply a scrumptious dish.

This is delightful when served with a white, rose or a Garnachas Cabernet blend of wine-which will set off the peppery strawberry finish that will set the seafood off!

Enjoy! Thumbs up from SBcanning!