Artichokes are low in calories, packed in water, and pasta shells should be whole wheat. Shrimp is low in calories but high in cholesterol. The entire dish as a whole is excellent in nutritional value.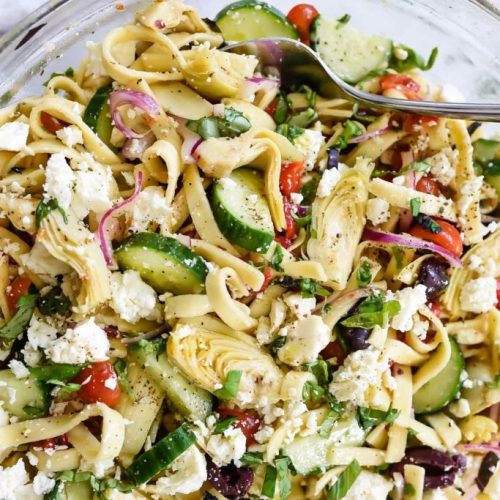 Ingredients
20

oz

artichoke hearts

3

tbsp

extra virgin olive oil

1/4

cup

lemon juice

2

tbsp

red wine vinegar

1/4

cup

fresh cut parsley tops (rinsed)

1

tsp

sea salt ground

1

tsp

lemon shredded peel (zest)

1/2

tsp

dried oregano (fresh if you have it)

1/4

tsp

freshly ground black pepper

1

lb

medium whole wheat shells

1

lb

medium tiger shrimp cooked, fresh frozen

1

medium

chopped red onion

1

pint

red cherry tomatoes

1

cup

pitted black California olives
Instructions
Mix the artichokes (drained), olive oil, lemon juice, red wine vinegar, sea salt, lemon zest, oregano, garlic and freshly ground black pepper in in sauce pan. Heat until it simmers, covered; then let stand 30 minutes. If you wish, it may be refrigerated overnight.

One hour prior to serving, cook whole wheat pasta shells until al dente (firm to the bite); drain and rinse in cool water and drain again.

Toss cooked pasta with artichokes and marinade, the tiger shrimp, red onion, parsley, tomatoes and black olives. Serve immediately.

SBcanning truly enjoys this recipe and knows you will too. It is terrific and serves 6 - 8 people. Enjoy!