SBcanning has this incredible curried potato and cauliflower soup, with scrumptious dumpling using Nutriflour, new Robin Hood flour in most of your large grocery stores. Use a light sour cream and we will have a delicious soup that will delight you.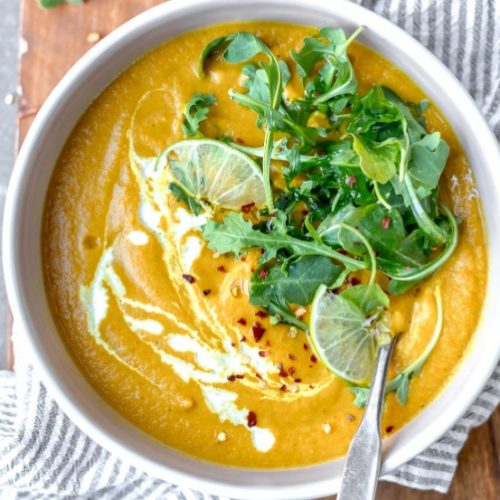 Curried potato and cauliflower soup
Curried potato and cauliflower soup
Ingredients
1/4

cup

butter

1

large

Spanish onion

4

cups

potatoes (regular baking potatoes) diced

3

cups

cauliflowerets

8

cups

chicken stock (low sodium)

1/4

cup

light sour cream

2

tbsp

curry powder

1

Sea

salt to taste

1

Freshly

ground pepper to taste
Instructions
Melt butter in soup pot over medium-low heat.

Add onions and saute until transparent.

Add curry powder and cook one minute.

Add remaining ingredients with the exception of one cup of cauliflowerets; bring to a simmer. Cook until vegetables are tender.

Puree vegetables with a hand-held blender. Season to taste with sea salt and freshly ground pepper.

Add remaining cauliflowerets and return to heat on simmer.

In a small sauce pan, bring 1 cup water, 2 tsp butter and 1 tsp sea salt to a boil. Remove from heat. Stir in 1 1/3 cups of Nutriblend Flour until mixed very well. Set aside to cool.

Move above ingredients from small sauce pan to a large bowl.

Stir in 2 eggs, 1/2 cups chopped parsley, 1 tsp coriander and 1 tsp freshly ground pepper.

Drop dumpling batter by teaspoons into simmering soup.

Close soup pan cover tightly and cook for 10 minutes.

Remove from heat and stir in low fat sour cream.

Healthy Recipes feels this curried soup is one of the best all time soups. It is simply scrumptious with the healthy dumplings!

This constitutes a "main meal" course.