Dian posted a picture to my FB page that I couldn't resist adding to my site. When you think about a dessert topping many wouldn't think about a Peach Rum sauce… or would they?
There is no need for pectin or Clear Jel to thicken as this recipe you will want to easily pour.
Dian said not only is it good on ice cream and other desserts, but a great glaze for pork. I would use this on my bread pudding instead of cream or a nice spoonful over your basic cheese cake!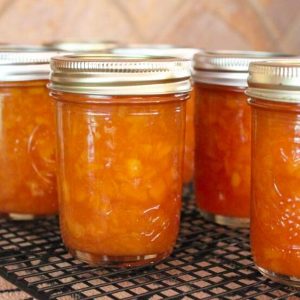 Peach Rum Sauce
This is a great combination of deliciously sweet fresh peaches, the sweetness of dark and light sugar adding a little molasses from the dark, the tartness but simple addition of the lemon zest, finished with the spiced dark rum.
Ingredients
6

cups

peaches peeled, pitted and roughly chopped

2

c

brown sugar, lightly packed

2

c

white sugar

1 1/2

cups

spiced dark rum

2

tbsp

lemon juice

1

tsp

lemon zest

pinch salt
Instructions
Preparation:
Prepare 6 pint jars in hot water. Using a knife peel and rough chop your peaches. 
Cooking:
In a stainless steel pot add peaches and rest of the ingredients. Bring to a boil, then reduce heat and simmer, stirring occasionally, until thickened to your liking (Dian simmered hers for about 45 min).   
Processing:
Ladle sauce into hot, sterilized pint canning jars, leaving 1/4" headspace. Remove air bubbles and refill if necessary.

Wipe rims, and add hot lids and rings. Place the jars in the water bath making sure that the water covers each of the jars by 1 to 2 inches. Add hot water to the canner if it doesn't measure up.

Cover the pot and turn up the heat under the canner and wait for the water to start boiling. Once the water has come to a boil start your timer for 10 minutes.

When complete turn off the heat and remove the cover and let the jars sit for another few minutes.

Remove the jars and place them back on the dishtowel in a place that they will sit overnight to cool. Do not touch or move them till the next morning.
Sealing:
Sometime in the next hour your jars will be making a "pinging" or "popping" noise. That is the glass cooling and the reaction of the lids being sucked into the jar for proper sealing. Some recipes may take overnight to seal. Check your lids and reprocess any jars that did not seal.