I saw this recipe online from a women who was demonstrating it and I thought that would be a very fun recipe to try for everyone who spends way too much money on the gummy fruit drops, worms, and other treats they put into kids lunches. The ones at the store have ingredients I can't pronounce and this was a very simple recipe that tasted good even before drying.
Once you make the "goop" you can use a pastry bag or for my purposes a freezer ziploc bag worked just great. I guess you could get a bit more fancy with all the pastry tips out there. I wanted to post the before picture and the after so you could see the transformation. You can use any type of juice also for this recipe even a puree for a more opaque finished product.  Enjoy!
If you need Clear Jel and can't find it locally here is a link to the SB Canning Store where you can purchase it online!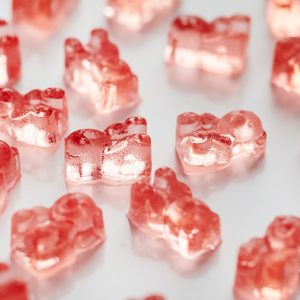 Gummy Fruit Drops
Ingredients
1/4 cup

+ 2 tsp

Clear Jel

1 1/3

cup

fruit juice/puree

1/2

cup

sugar

1

T.

bottled lemon juice
Instructions
Mix Clear jel with sugar in a bowl.

Add fruit juice to a small saucepan and cook over medium heat.

Once the juice/puree starts to simmer add the Clear Jel/sugar mixture and whisk till the mixture comes to a gel.

Add lemon juice and boil for one minute. Remove from heat.

Cool mixture for about 15/20 minutes and then spoon into pastry bag or zip lock and cut a slit with a scissor.

On your dehydrator place plastic wrap or used your fruit roll up try.

Spray with non stick spray.

Start making drops of even size on the tray using your bag. This recipe will make two full trays for the Nesco dehydrator.

Add cover of the dehydrator and turn it on to 135 degrees and dry for 12 hours.

Check the doneness when the drops have solidified. It may take longer if your drops are bigger, from 12-18 hours but if you pull them apart if will look like a gummy worm does!
Notes
Here is the finished product... They are not perfect but I just wanted to demonstrate how easy they were and your kids will love it!
When you are done you can store these in individual food saver bags to put into the kids lunches or put them in canning jars using the jar attachment and seal them for an afternoon snack! You will only need to buy one for regular mouth and one for wide mouth that will come off after each sealing!
Here is how the pros do it!!