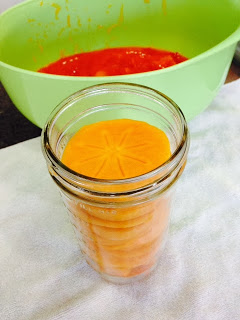 Honey-Spiced Fuyu Persimmons
Honey-Spiced Fuyu Persimmons
Ingredients
8

lbs

Fuyu Persimmons or peaches

1

cup

sugar

4

cups

water

2

cups

honey

1-1 1/2

tsp

whole allspice

3/4

tsp

whole cloves

3

sticks

cinnamon

Lemon juice
Instructions
Preparation
Wash peel and pit persimmons. Cut into slices. Prepare 6 wide mouth pint jars for sterilizing by boiling them for 10 minutes in a water bath canner.
Cooking
Combine sugar, water and honey. Cook until sugar dissolves.  
Filling
Using your funnel fill the bottom of a hot jar, add 2 whole allspice, 1 whole clove, and part of a cinnamon stick. Remove funnel and add persimmons to hot jar and add 2 teaspoons of lemon juice.

Add the hot sugar liquid filling the jars to 1/2" headspace.  Remove the air bubbles with the rubber or plastic spatula and refill to the proper headspace if necessary.
Processing
Wipe the rims and place the hot lid/rings on the jars. Process in a water bath canner for 20 minutes at a full rolling boil.

(Adjust for altitude) Wait 5 minutes, remove and place on dishtowel overnight undisturbed. The next day remove rings and clean jars and label with recipe name and date. Store in a cool, dry, and dark place.