Another great thing about have a Facebook page is all the submissions and ideas you get for using those jars of food that you have so painstakingly processed. Sherrie has come up with another great dessert recipe that is fast and easy to use any of the jars of pie filling.
This recipe works great with apple, cherry, blueberry, and any of the canned pie fillings you have in your pantry. Sherry said that she had made this for years with store bought filling but once she made her own it's never been so good.
Thank you Sherrie for your continued support of my page and all the incredible recipes and pictures you share with me.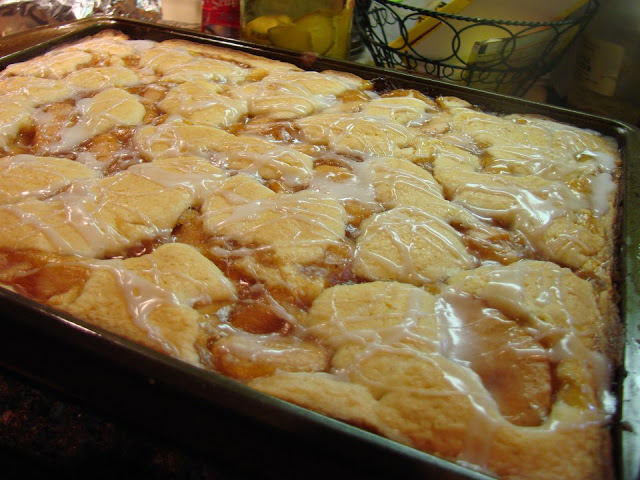 Sherrie's Pie Filling Bars
The recipe is easy and the results are a great dessert that you can whip up quickly for a picnic or a sweet to take to a party.
Ingredients
1

cup

butter, softened

2

cups

sugar

4

pc.

eggs

1

tsp

vanilla extract

1/4

tsp

almond extract

3

cups

all-purpose flour

1

tsp

salt

1

qt

apple pie filling or filling of your choice
Glaze for the top:
1

cup

powdered sugar

1/2

tsp

vanilla extract

1/2

tsp

almond extract (I used vanilla)

2

Tbs

milk
Instructions
Cream together butter and sugar. Add eggs and beat well. Beat in extracts.

In a separate bowl combine flour and salt. Add to the creamed mixture. Mix until combined.

Grease a 15x10x1 pan or 9x13, whichever one you decide to use. Spread 3 cups batter in a 15x10x1 (Batter will be spread thinly)(Also works with 9x13- baking time will at least be 35 minutes) Spread with pie filling. Drop remaining batter on top of pie filling.

Bake at 350 for 30-35 minutes or until toothpick comes clean. Cool on wire rack. Combine glaze ingredients and drizzle over the bars.

From Sherrie: These are amazing with any kind of filling, cherry, strawberry, or cheese Danish** are really good.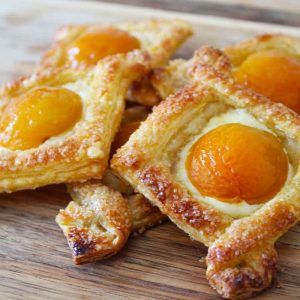 Cheese Danish Mixture
Ingredients
2

8-ounce

packages cream cheese

1

cup

sugar

1

teaspoon

vanilla extract

1

pc.

egg
Instructions
Beat the cream cheese, sugar, vanilla, and egg together until smooth.

Follow remaining recipe as you would for fruit pie filling.

This can also be made using apple butter, and if someone has a lot of homemade jam to use up.