I thought that this recipe looked bizarre when I found it in my pickling book, but I realized that it would be great to use as an appetizer topping or on burgers when I'm out of mushrooms.
The warning on this recipe is that it has to sit in the pantry for at least two months. We tried a jar after a month and the vinegar was so overpowering it was pretty inedible. By the time the second month went by I opened a jar to use with dinner for a topping on our french bread. It was lightly buttered then toasted and my hubby and I took a small spoonful almost like a Bruschetta and the taste was amazing. The tartness had dissipated and the combination with the acid made them really creamy tasting. I'm bummed that I didn't make more but will get on that soon! Enjoy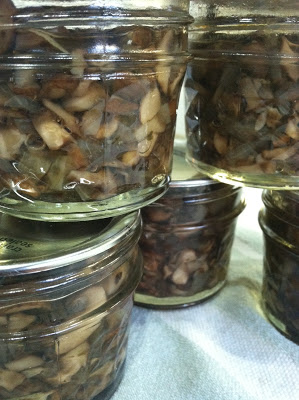 Mushroom and Lemon Tapenade
The mushrooms had a great flavor.
Ingredients
1

lb

mushrooms diced mushrooms

1/2

cup

diced shallots

1

t.

kosher salt

1

t.

grated lemon zest

1

T.

fresh squeezed lemon juice

1

t.

fresh chopped thyme

1/2

t.

ground black pepper

3/4

cup

white vinegar
Instructions
Dice mushrooms and add to stock pot. Add salt and lemon juice. Cook, stirring often for around 5 minutes till mushrooms start to release their liquid.

Cover the pot and reduce heat to low simmer for 10 minutes stirring occasionally. The mushrooms will be very soft and the mixture will be very wet.

Uncover and increase to medium heat for minutes or until the liquid is almost evaporated. Stir in lemon zest, thyme, pepper and vinegar. Bring to a boil stirring constantly, for 1 minute.

Ladle hot tapenade into hot jars, leaving 1/2 " headspace.

When filling the jars be sure there is enough liquid on top of the tapenade to cover the solids. Processing in a water bath for 15 minutes.

Great on baguette slices for quick canapes or with grilled steak or on a burger!