From the response to my question on Facebook I found that many of you wanted to get the method and recipe for making homemade Ricotta. The type of Ricotta I'm talking about starts from the leftover whey of Mozzarella cheese. The recipe to make Mozzarella is linked here!
Ricotta, which means twice cooked, is really a great cheese and very different fresh than when you buy it in the store. The consistency is creamy and flavorful which most of the ricotta I have bought is more of a filler and doesn't have the luscious taste. If you use the whey of Mozzarella you must make the Ricotta within 3 hours of finishing the mozzarella. It will render the whey unusable if it cools too much. The other ingredients to make Ricotta will be a quart of whole milk or half/half and 1/4 cup of cider vinegar… and that's it. Below is the process after the whey has been extracted from the curd in making the mozzarella. Enjoy!
Whey from Mozzarella made 1/2 hour earlier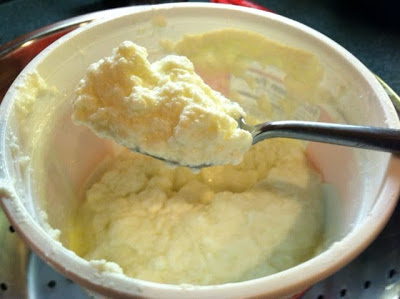 Fresh Homemade Ricotta
Ingredients
1

quart

whole milk or half & half

1/4

cup

cider vinegar
Instructions
In the stainless steel pot you made the Mozzarella add a quart of milk or half & half to the whey. Heat to 200 degrees using a thermometer to measure the temperature. You will need to stir every minute or two so that you don't boil it or it will taste burned.

Once the temperature gets to 200 degrees which will take about 15 - 20 minutes you will stir in the cider vinegar and then remove the pot from the heat.  Let sit for 5 minutes for the vinegar to activate or acidify the whey.

In a cheesecloth lined colander pour the whey into the cloth and let the remaining whey drain out of the cloth into the sink or a bowl. It will take about 20 minutes to completely drain and what you will have left is the beautiful Ricotta.

Scoop the Ricotta into a recycled yogurt pint or Ball  jar and put into the fridge. The cheese will last about 2 to 3 weeks.