Our second recipe is for pork Chorizo. This one we decided not to use the casing but to make breakfast patties. We ground the pork and pork fat the same way as the Breakfast Sausage, but added the Chorizo flavors and spices.
We found the recipe in the  "Home Sausage Making" book and got to work on our second project.  Again I would highly recommend this book because it explains how to handle raw meat, issues with cleanliness, and bacteria.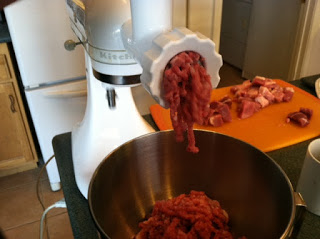 Chorizo Sausage
Here is the recipe for the Chorizo
Ingredients
3 1/2

lbs

lean pork butt

1/2

lbs

pork fat (we ask the butcher for this)

1 1/2

T.

kosher or coarse salt

2

t.

freshly ground white or black pepper (fine grind)

1

t.

fennel seed

1

t.

crushed red pepper

4

cloves

garlic, minced

1/4

cup

dry red wine

2

T.

brandy

1

T.

red wine vinegar
Instructions
Cut the meat and fat into 1 inch cubes. Freeze the cubes for about 30 minutes to firm them up before grinding.

Grind the meat and fat together through the coarse disk of a meat grinder.

In a large bowl, combine meat, salt, black pepper, fennel,garlic, wine, brandy, vinegar, and crushed red pepper. Mix well, using your hands.

Refrigerate, covered 3 to 4 hours. This gives the wine and brandy a chance to extract maximum flavor from the herbs and spices and for the meat to absorb some of the liquid. 

Before you start making your patties fry up a small patty of the mixture to make sure that it's seasoned the way you want it. 

Place the patties on a platter, cover, and refrigerate for a couple of hours or overnight to meld the flavors. Use within 2 to 3 days or freeze for up to 3 months. We froze them using our new Food Saver!
Notes
Press the patties....
Troy and I decided that we wanted to make these into breakfast patties so I remembered that my son got a "slider press" so I pulled it out to make the perfect patties.