Pressure Pressure canning is very important to me and this site being only one of a few on the web I want to continue to work the recipes so that my followers will take advantage of the additional meals, side dishes, and ingredients that can be "put up" in their pantry. I just did a post of the advantages of pressure canning beans, but found this fantastic recipe for baked beans that includes the ability to add bacon. YES I typed that delectable pork product that many good bean dishes can not be without. It's not much but will do a good job in adding some additional flavor.Baked Beans from the USDA Complete Guide to Home Canning gives me the ability to finally make the recipe that has been in our family for some time.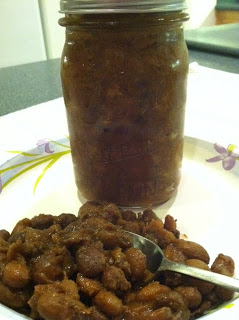 Baked Beans with bacon
It's a fully cooked recipe that allows you to can the final product and have available for any meal or a quick pairing with a pot of rice for a great lunch. 
Ingredients
3 1/4

pounds

dried pinto beans
Instructions
Select mature, dry beans. Sort out and discard discolored beans.

Soak and boil beans as follows – Sort and wash dry beans. Add 3 cups of water for each cup of dried beans or peas. Boil 2 minutes, remove from heat and soak 1 hour and drain. Heat to boiling in fresh water, and save liquid for making sauce.

Prepare molasses sauce as follows – Mix 4 cups water or cooking liquid from beans, 3 tablespoons dark molasses, 1 tablespoon vinegar, 2 teaspoons salt, and ¾ teaspoon powdered dry mustard. Heat to boiling.

Place seven ¾-inch pieces of pork, ham, or bacon in an earthenware crock, a large casserole, or a pan. Add beans and enough molasses sauce to cover beans. Cover and bake 4 to 5 hours at 350ºF. Add water as needed–about every hour.

Fill jars, leaving 1-inch headspace. Adjust lids and process in a pressure canner: 65 minutes for pints and 75 for quarts at 11lbs of pressure for a dial gauge canner and 10lbs for weighted gauge canner. Adjust for altitude using the table below in the section: "Changes in Altitudes - Dial Gauge vs. Weighted Gauge for Pressure Canners"